ReferKent - for organisations who support Kent residents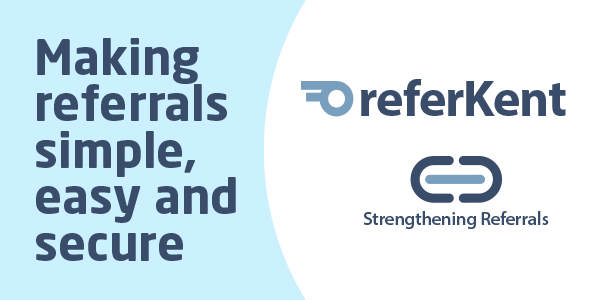 ReferKent is an online referral system that aims to strengthen referrals across Kent for adults and families who may be experiencing financial hardship.
Supported by the Helping Hands Scheme, we are encouraging district councils and other organisations to sign up as referral partners. This service is free to organisations who support Kent residents, and you can access it from mobile and desktop devices.
The ReferKent system has been set up in response to COVID-19. It was recognised in the very early stages of the pandemic that many people were subjected to signposting, often from one organisation to another. This left individuals who were seeking support feeling deflated and falling further into financial hardship.
ReferKent will help you make referrals with a quick, easy, and secure platform. Your referral can be tracked and monitored to make sure people are getting the support and guidance they need. As we enter the 'cost of living crisis' this service will continue to support individuals who are experiencing, or are at risk of, financial hardship. Referrals can only be made for adults.
Once you've signed up, you can start making and receiving referrals. We look forward to you using our system and know that with your help, we can make referrals simple, easy and secure.
Watch our video explaining the ReferKent service and why you should register.
Using the ReferKent system
Email referkent@kent.gov.uk to let us know that you're interested in signing up.
We'll send you a sign up form, service level agreement and data sharing agreement.
Complete the forms and return them to us.
We'll then invite you to an online training session.
Once training is complete, we'll set up your account.
You're ready to make referrals.
Making a referral is quick, easy and secure. It's only for organisations and agencies to refer their clients, residents can't self-refer. Referrals can only be made for adults.
Referrals only take a few minutes to complete, and you can track the progress of your referrals at any time. You can request reports on your referrals from us.
In line with UK GDPR law, the system has been designed to keep individuals' information safe and secure. It only asks for essential information needed for the referral and you can't attach clients notes.
You should get a response to your referral in 3 working days.
You will get an email notification when you receive a referral. You then log into your ReferKent account to view the referral.
In line with UK GDPR law, the system has been designed to keep individuals' information safe and secure, you will only receive essential information needed for the referral.
You should respond to the referral in 3 working days.
If you are receiving more referrals than expected and don't have capacity to assist, please contact us and we will put your account on hold for an agreed period to allow you to catch up before accepting any further referrals.
When you become a ReferKent user we will give you access to information, updates and networking opportunities.
You can join our MS Teams "Strengthening Referrals" channel, where we collaborate, ask questions and find out more information about the projects and services that are working to help Kent residents facing hardship.
There will be regular networking meetings for you to talk to, and find out more about, other organisations using ReferKent and who you are referring to. You can ask questions to strengthen your referrals.
You will be sent a regular newsletter with details of all the support and up-to-date information about what is going on across Kent to help those in financial hardship.
If you have any comments, suggestions or issues you need support with, email referkent@kent.gov.uk.
Organisations working with us
We have over 70 organisations and over 400 users working with ReferKent. This number is growing rapidly and we are delighted that so many organisations are getting involved and helping those in need.
Below is a list of the organisations working with us:
Funded by
ReferKent is funded by The Helping Hands Scheme.