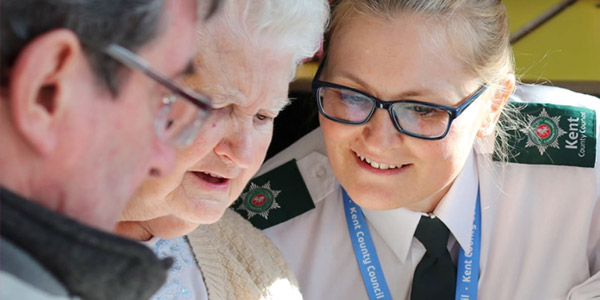 Here to help
Community wardens help make stronger, safer communities.
Community wardens will try and help you and your community no matter what the issue. If they don't have the answer they will know someone who will.
Supporting your community
Our community wardens are out between 7.30am and 10pm every day in communities across Kent. Their aim is to:
improve community resilience
support the elderly and vulnerable
foster community cohesion and wellbeing
assist with navigating community services.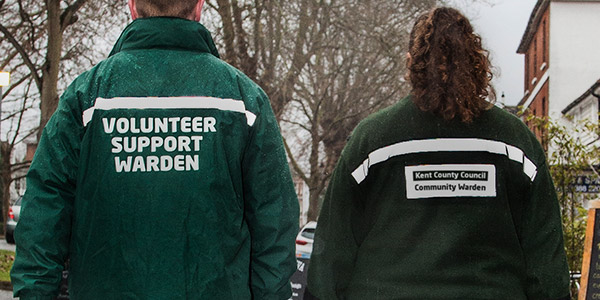 Volunteer as a support warden
We need volunteers in local areas to support community wardens, local organisations and residents to create resilient neighbourhoods and reduce the fear of crime.
Contact your local warden
All our wardens have mobile phones which you can call them on.
Community warden central contact number
03000 41 34 55
Find out who your warden is and how to contact them: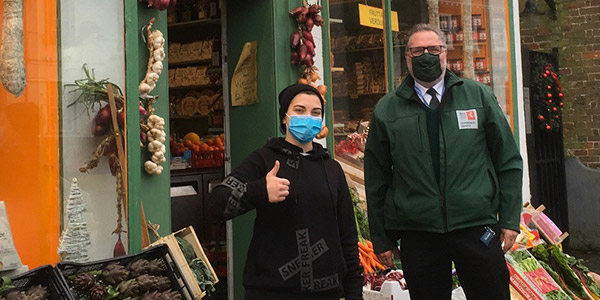 Ways we help residents and communities
There's so many ways we can help, we aim to improve residents' quality of life and allow their communities to thrive. We want residents to feel safe, to support the elderly and vulnerable, and work with communities to foster a sense of cohesion and wellbeing.
Here's some examples of support we've provided in the community:
Community warden Paul Robertson visited an elderly lady who had been targeted by scammers. They persuaded her she needed a check and some maintenance on her solar panel system.
The caller convinced her the original installation company could not be trusted and assured her they would give her the best deal, and it would only cost her £2,000 for a 5 year contract.
The lady was understandably upset and described the high-pressure and convincing tactics the caller used before she wrote a cheque. Paul encouraged her to tell her family, who were very supportive, and will work with her to identify safeguards that can be put in place. Paul reported the scam to public protection.
Community Warden Stuart Ellesmere helped a local resident with a history of mental and physical health conditions. The resident struggles with agoraphobia which was worsened via COVID-19's lockdown policy and has prevented her from going out for nearly three years.
The resident was interested in going to a nearby mental health and wellbeing event at Hermitage Park Community Centre in Maidstone. Not only did she walk to the event with Stuart, but fully engaged with the services. To top it off, the resident tried out the gym equipment and has now joined the gym to boost her fitness and increase her social networks!
"It took great courage to do what she did," said Stuart "but the result is so empowering and is a huge achievement for her. I am so lucky to be part of what is a big re-awakening in this resident's life and feel privileged to have been there to experience it. It is rare in any job to come away feeling so inspired by what has occurred. It was a real honour to be part of it. I hope it inspires others."
Over 20 people attended the first Swanley Shed event organised by Community Warden Paul Sharrad at Swanley Park.
Along with the CEO of Swanley Town Council and the Community Development Officer at West Kent Housing Association, we have created a wonderful new project.
Attendees came with a variety of interests, from carpentry, repairing pedal cycles, and gardening, to arts and crafts. A group of very kind residents provided tools and materials. Some local companies also promised to lend their support.
Hopefully, many people will benefit from the camaraderie of this lovely group of people, reducing the sense of social isolation that many feel.
Siobhan MacKay and Jackie West, Sevenoaks & Tunbridge Wells Community Warden Team, responded to an urgent call for help from a vulnerable resident.
The elderly, vulnerable gentleman was distressed and had no electricity at his home. They immediately responded, and arrived to find an ambulance at the house - his wife had fallen and needed to go to hospital.
After paramedics had taken his wife to hospital, Jackie stayed to help the gentleman. She called his next of kin, social care and the utility providers. With the help of the community wardens, the services to his property were restored and this couple will get ongoing welfare checks.
Community support if you don't have a community warden
If you don't have a community warden in your area, there are other places you can go for help and support:
Contact the team leader for your area who will advise how we can support you.
For health and wellbeing support and advice read our One You Kent pages.
Go to the Kent Police website for more information about how the police can help your community.
Search this website for services provided by Kent County Council, such as libraries, adult social care and roads.