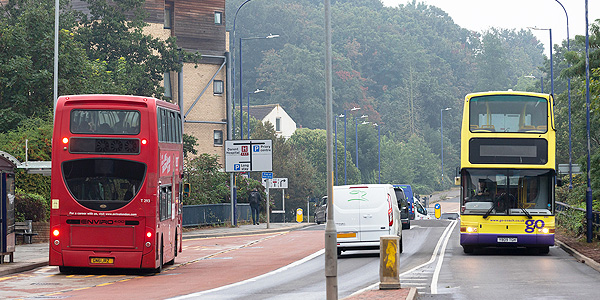 Last updated: 28 July 2022
This page is for residents to find out the latest information on bus services in Kent.
We recognise the concern of many residents and families that some bus services across Kent will stop from September 2022.
We are regularly updating this page and will also use it to provide updates about any replacement services that have been organised. We are working with operators to try to find replacements for these services wherever possible.
Changes to bus services in Kent
Bus services in Kent are changing from September 2022.
We are working with operators to try to find replacements for services affected wherever possible.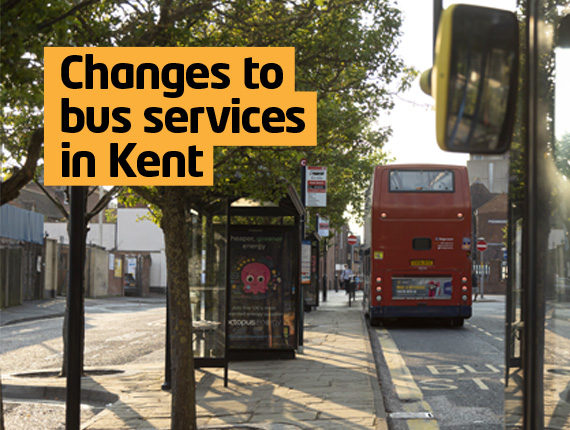 Below we have provided information about our role in providing bus services, why so many bus withdrawals are happening and what we can and can't do about the situation.
Who runs bus services in Kent
We don't run bus services in Kent, they are run for profit by private bus operators. We do not have the powers or funding of an organisation like Transport for London. However, we do provide funding to subsidise some routes or services that are not viable for private bus operators to run but are deemed socially necessary.
Why some bus services are stopping
The use of buses has not recovered from the pandemic and levels of use are down significantly. At peak (school) times, use is 20% less than it was before the pandemic, but during off peak times, use is half of what it was.
Other factors are also adding to the significant pressure on bus operators:
the government's Local Transport Fund, given to councils and bus operators to keep services going through the pandemic, finishes at the end of September 2022
the sharp increase in fuel costs, particularly diesel
high inflation, which is making the cost of maintaining vehicles much higher
staff shortages.
These challenges have meant that some bus services have become unsustainable for bus operators to run.
In addition to the services that bus operators are withdrawing, we are also having to reduce the level of subsidies we provide bus operators to run services.
We have recently consulted on and made the difficult decision to reduce the level of subsidies we provide bus operators to run some of these bus services.
Unfortunately, we cannot afford to continue to contribute the level of funding we have previously. This is because of the immense pressure we face with increasing demand for council services that we have a legal duty to provide, and the rising cost of providing them. Even after this, we continue to provide £4.5 million in support for bus services, more than many other councils.
Getting to school in September
Some of the bus service withdrawals are affecting school routes, so we advise you to check the list of all service withdrawals underway or planned.
We encourage you to use the summary to understand if you are affected by service changes before you apply and pay for a KCC Travel Saver pass. or a 16+ Travel Saver.
If you have already purchased a pass which can no longer be used because of a bus service change, then we will issue a refund either in full or on a pro-rata basis, depending on if you have used the pass before requesting a refund.
What we can do
We will make sure that children and young people for whom we currently provide free travel to and from school continue to have transport in September. We have a statutory duty to do so.
We will provide refunds to any parents who have bought a Kent Travel Saver bus pass which they can't use because services have been withdrawn, or will be later this year.
We are working closely with other bus operators to see if they can offer any services to those being withdrawn (while recognising that all operators are facing the same set of challenges).
We will work with schools and parents if they want to fund their own services.
Kent Connected provides information about other travel options such as walking and cycling routes, and car-shares, which some parents might find useful.
What we cannot do
We are sorry that we cannot provide transport to and from school for children and young people who are not eligible for free school travel. We do not have the funding or a statutory obligation to do this and unfortunately have no other means to help families get their children to school. A child's eligibility for free school transport does not change if a previous mode of transport becomes unavailable.
We cannot financially support services that are being withdrawn by bus operators – this would require a huge level of investment that we cannot provide.
We cannot increase the level of our subsidies as we do not have the funding.
We cannot insist bus operators continue to provide services as we do not have the power to do so.
Government bus funding during the COVID-19 pandemic
During the pandemic we received COVID Bus Service Support Grants (CBSSG) from the government.
We used £6.2 million of the funding between March 2020 and July 2021 to make KCC Travel Saver payments to bus operators at normal levels, even though there was very limited use of bus services.
This support helped to sustain 514 services that might not have been able to operate and provided 39.5 million service kilometres per year for passengers.
Local community transport
There are community transport schemes in different parts of Kent that might be able to help you if you do not have access to public transport.