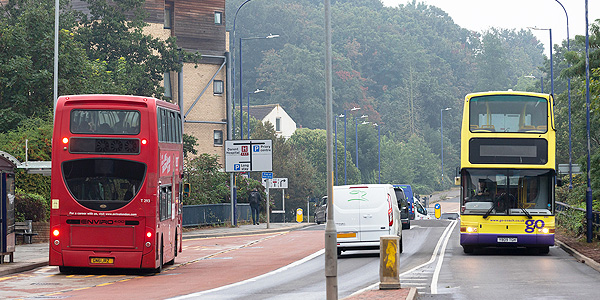 Last updated: 26 August 2022
This page is for residents to find out the latest information on bus services in Kent.
Since July, when bus operators announced they were planning to withdraw services across the county later this year, it has become very clear that the planned changes would have a considerable impact on school routes, leaving many children and families facing the prospect of not being able to get to school in September.
As a result, we have been working tirelessly with bus operators to find ways to make sure as many pupils as possible can access school bus services from September.
You can find out more about this below.
Changes to bus services in Kent
In July, bus operators (who run most bus services in Kent for profit) announced their intention to stop some of their services later this year, many of which affected school routes.
These services are not provided, or subsidised, by KCC.
We recognised the serious impact on families, who faced the prospect of not being able to get their child to and from school in September. Although it is not possible to provide large-scale, long-term additional subsidies to bus operators given the severe financial situation we face, we knew it was important to do everything we could to help find solutions to their service withdrawals.
Our Public Transport team worked closely with bus operators through the summer to come up with a range of different measures to provide as many pupils as possible with access to school bus services in September.
This has been a complex programme of work, done in collaboration with bus operators who face challenging conditions (driver shortages and rising costs).
While the majority of bus withdrawals announced are being proposed by private bus firms, KCC also consulted on and planned to withdraw subsidies from a smaller number of bus routes, in line with its approved budget. These plans have been put on hold pending further council meetings in September. Therefore, the bus services that would have been affected will continue as usual until further notice and accept Kent Travel Saver bus passes and other ticket types.
Check your bus route
We have published details of the services that have been saved or that will be covered by other services in a full list of bus services that are, or were due to stop running in Autumn 2022.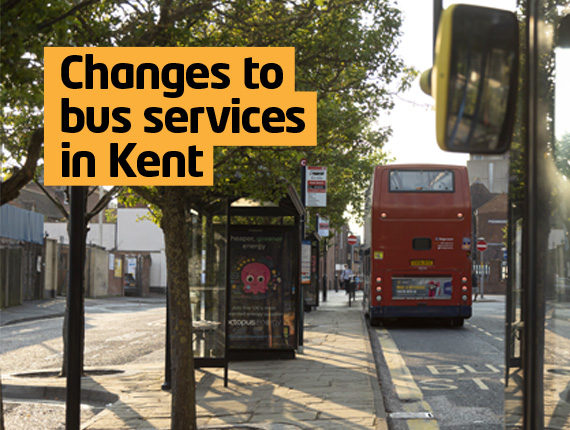 Below we have provided information about our role in providing bus services, why so many bus withdrawals are happening and what we can and can't do about the situation.
Who runs bus services in Kent
We don't run bus services in Kent, they are run for profit by private bus operators. We do not have the powers or funding of an organisation like Transport for London. However, we do provide funding to subsidise some routes or services that are not viable for private bus operators to run but are deemed socially necessary.
Why some bus services are stopping
The use of buses has not recovered from the pandemic and levels of use are down significantly. At peak (school) times, use is 20% less than it was before the pandemic, but during off peak times, use is half of what it was.
Other factors are also adding to the significant pressure on bus operators:
the government's Local Transport Fund, given to councils and bus operators to keep services going through the pandemic, finishes at the end of September 2022
the sharp increase in fuel costs, particularly diesel
high inflation, which is making the cost of maintaining vehicles much higher
staff shortages.
These challenges have meant that some bus services have become unsustainable for bus operators to run.
In addition to the services that bus operators are withdrawing, we are also having to reduce the level of subsidies we provide bus operators to run services.
We have recently consulted on and made the difficult decision to reduce the level of subsidies we provide bus operators to run some of these bus services.
Unfortunately, we cannot afford to continue to contribute the level of funding we have previously. This is because of the immense pressure we face with increasing demand for council services that we have a legal duty to provide, and the rising cost of providing them. Even after this, we continue to provide £4.5 million in support for bus services, more than many other councils.
Getting to school in September
Some of the bus service withdrawals are affecting school routes, so we advise you to check the list of all service withdrawals underway or planned.
If you have already purchased a KCC Travel Saver pass or a 16+ Travel Saver pass which can no longer be used because of a bus service change, then we will issue a refund either in full or on a pro-rata basis, depending on if you have used the pass before requesting a refund.
Government bus funding during the COVID-19 pandemic
During the pandemic we received COVID Bus Service Support Grants (CBSSG) from the government.
We used £6.2 million of the funding between March 2020 and July 2021 to make KCC Travel Saver payments to bus operators at normal levels, even though there was very limited use of bus services.
This support helped to sustain 514 services that might not have been able to operate and provided 39.5 million service kilometres per year for passengers.
Local community transport
There are community transport schemes in different parts of Kent that might be able to help you if you do not have access to public transport.