Keeping cool in hot weather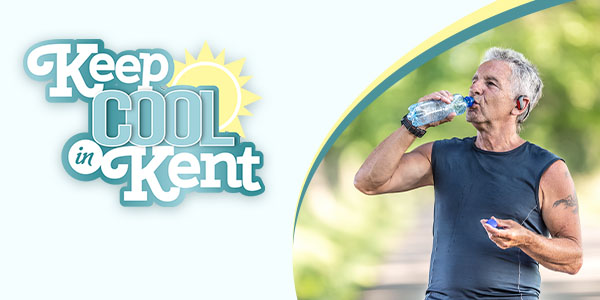 All local authorities in England have a responsibility to prepare for, alert people to, and prevent health problems caused by heatwaves.
Tips for staying healthy in the sun
Make sure you:
drink plenty of water
stay in the shade between 11am and 3pm
take rest breaks if you're out and about
wear sunscreen above SPF15 and cover up in the sun.
Download and print copies of the summer posters (PDF, 3.3 MB) for your workplace.
If you are having trouble printing the posters above, you can print them in a smaller size (PDF, 1.1 MB).
If you need medical assistance and it's not an emergency call 111 or visit NHS.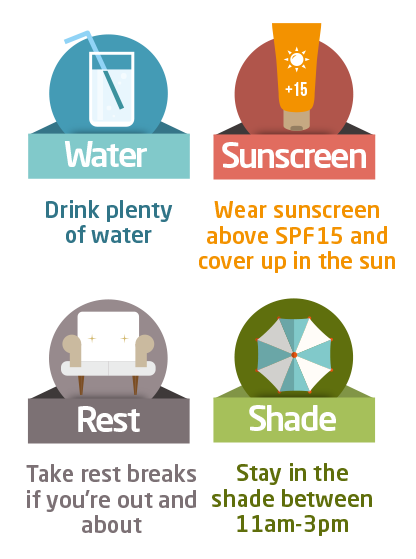 In our video, Director of Public Health, Dr Anjan Ghosh, gives some tips and advice on staying safe in hot weather.
We also have a video about how you can keep cool when out in hot weather.
Who is at risk?
The heat can affect anyone, but some people may be more at risk, including:
older people, especially those over 75
babies and young children
people with a serious chronic condition, particularly dementia, heart, breathing or mobility problems
people with serious mental health problems
people on certain medications, including those that affect sweating and temperature control (for example diuretics, antihistamines, beta-blockers and antipsychotics)
people who are already ill and dehydrated (for example from gastroenteritis)
people who misuse alcohol or drugs
people who are physically active (for example soldiers, athletes, hikers and manual workers)
homeless people.
Watch out for signs of dehydration and heat exhaustion.
What you can do
A few simple steps can help protect yourself and others during hot weather.
Make sure that you and your friends and neighbours are ready and equipped for a heatwave. Check up on friends, relatives and neighbours who may be less able to look after themselves and make sure they have enough supplies, such as food, water and any medication they need.
Watch our video about checking on vulnerable residents during hot weather.
Links to further advice
The links below provide further advice about how to protect yourself and others:
If you need medical assistance and it's not an emergency call 111 or visit NHS.
What we are doing
Health and social care professionals identify people they care for who are at high risk, make plans to support them, and will check on them regularly if the weather gets hot.
Care home managers and staff identify people they care for who are at high risk, make changes to working arrangements and facilities to reduce the risk, and will check on high risk people regularly if the weather gets hot.
The Beat the Heat: care home checklist is used by care home staff to identify situations where overheating may cause harm to health, actions to take, and where to get help and support.
Teachers and child care workers take steps to protect children outdoors and indoors during periods of high temperatures and can recognise the warning signs of heat stress, heat exhaustion and heatstroke.