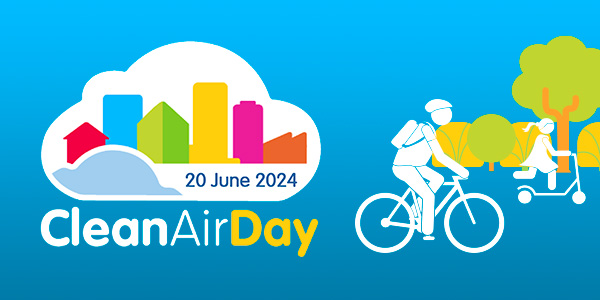 Clean Air Day on 15 June will see events being held across the UK to inspire people to take simple steps to protect their health, and their families' health, from air pollution.
Schools, hospitals, workplaces and communities will be getting involved.
It is a moment when thousands of people up and down the country come together to:
collaboratively voice support
hold events
make pledges
take action on toxic air.
Cleaning up our air is good for us in many ways: it not only benefits our physical health and the environment but can also protect our mental and brain health. The physical health impacts of air pollution – such as asthma, heart disease and cancers – have been recognised for decades. More recently, researchers are beginning to understand how air pollution can affect the brain and the mind.
What you can do
There are 2 main ways you can support Clean Air Day.
Learn: find out more about how air pollution impacts our mental, physical and planet's health.
Act: walk, wheel or use public transport to reduce your exposure and contribution to air pollution. If you drive, try leaving the car behind on Clean Air Day and one day every week.
Other things you can do are:
To improve awareness of air pollution, Pollution Patrol is a free online interactive story for primary aged children. Children can visit the town of Sooting in Pollution Patrol, to find out more about sources and impacts of air pollution and how they can reduce their emissions, in school or at home with parents.
What we're doing
Together with Medway Council, and Kent's 12 district and borough councils, we are part of the Kent and Medway Air Quality Partnership. We support the other local authorities in this partnership to meet their legal duties to monitor and take action to address areas of poor air quality.