Getting around Brockhill Country Park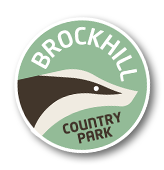 Map of the park
Check out the waymarked trail routes, visitor centre and café location, toilet facilities, picnic spots, ponds, play areas and other points of interest on a detailed map of the park.
View a map of Brockhill Country Park (PDF, 2.6 MB)
Park accessibility
There are 2.5 kilometres of Easy Access pathway that provide access to Brockhill's central areas, such as the café, playground and view point, where you can enjoy the beautiful sights of the surrounding countryside.
Learn more about accessibility at the park (PDF, 21.7 KB)
Easy access paths
The main path from the café to the play area has recently been resurfaced and flat as far as the play area. After this it slopes quite steeply to the lake path.
Read more about accessibility at Brockhill Country Park (PDF, 21.7 KB)