Breastfeeding friendly Kent
Breastfeeding has long-term benefits for mums and their babies. Breast milk adapts to the changing needs babies have as they develop and helps to prevent tummy bugs and childhood obesity. It's recommended that babies are given breast milk until they are 6 months old.
Welcome to breastfeed in Kent
The law protects women from being asked to leave a public space while breastfeeding and many businesses in Kent have signed up to support breastfeeding. Look out for the Breastfeeding Welcome stickers for a safe and comfortable place to breastfeed.
To find out more about breastfeeding in Kent visit the We Are Beside You website.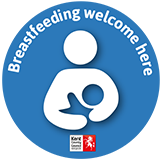 Support and resources
Health Visiting Service
Breastfeeding can be challenging in the beginning since it's new for both mums and babies.
Beside You is here to support breastfeeding in Kent and Medway. No matter what stage of the breastfeeding journey you're at, we're here to help.
Visit the We Are Beside You website which provides advice and support for local breastfeeding women and for women who wish to support other women to breastfeed. Alternatively, you can follow them via their social media channels and use the hashtag #BesideYou:
Become a peer supporter
We always need new mums to join our countywide team of peer supporters. For information about becoming a peer support volunteer and helping new mums in Kent, speak to your local children's centre.
Start4Life
We support the Start4Life campaign by sharing helpful NHS advice and resources to give your baby the best start in life.
Almost two thirds of mums say that access to 24/7 support would help improve their breastfeeding experience and the Start4Life breastfeeding campaign helps new mothers with everything they need during their first weeks of breastfeeding and beyond.
Mums can also try the Start4Life Breastfeeding Friend with Amazon's Alexa voice service, Google Assistant and the Breastfeeding Chatbot via Facebook Messenger.
Business and community support
We are inviting businesses and organisations across Kent to apply for a £1,000 grant to help make their premises more welcoming to breastfeeding mums.