About Manor Park Country Park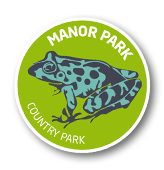 Through careful management, nature has reclaimed a good part of these former manor house grounds, which have a variety of habitats and facilities to enjoy.
Once part of the 18th century estate created by Thomas Douce, Manor Park is now an attractive location with an impressive variety of habitats and landscapes to explore. Together with the facilities and play area, this makes the park a good destination for a family trip out.
Manor Park's 52 acres are divided into 4 sections:
the lake is a haven for wildlife such as swans, moorhens and dabchicks
the Abbey Field and Chestnut Paddocks are grazed fields with plenty of wildflowers in summer
the Ice House field, on the far side of the lake, takes its name from the structure used to store ice taken from the lake over winter for use in the manor house's kitchen
Douce's meadow is an area of open grassland where the excellent play area is situated, along with picnic tables and plenty of space for ball games.
Visit Manor Park Country Park.
Our vision
We never forget that our Country Parks are, and always will be, for the people of Kent to enjoy. We see it as our duty to ensure everyone can make use of them. It is also our responsibility to protect and nurture our parks for today's and future generations.
Read our strategy to find out how we plan to achieve our vision
How we manage the park
We work tirelessly to protect Manor Park's natural habitat and unique environment, whilst providing a safe and welcoming area for you to enjoy. This combination of conservation and public enjoyment is at the very core of the work we do.
Learn more about how we manage Manor Park Country Park (PDF, 3.7 MB)
Accessibility
We want everyone to enjoy the beautiful sights of our country park and the surrounding countryside.
Read our accessibility guide for Manor Park Country Park (PDF, 2.0 MB) to find all the information you will need for your next visit.
The history of Manor Park
Manor Park Country Park was once part of an 18th century country estate called Douce's Manor (formerly St Leonard's) which still looks over the lake. The lake itself was created in the mid-1800s, in order to provide fresh fish for the manor house.
Learn more about the history of Manor Park
Wildlife at Manor Park
Manor Park Country Park is home to a wide range of wildlife that you can easily spot on a day out in the park. The lake attracts many types of birds, including kingfishers and herons, and the woodland areas, particularly our veteran trees, make ideal roosts for several types of bats.
Find out more about Manor Park's wildlife
Award winning
We take huge pride in our Green Flag award. It is a testament to the dedication of our wardens and staff that the park has been given the Green Flag award every year since 2009.