The history of Manor Park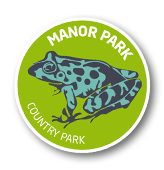 The land that now forms the park once belonged to the 18th Century Douce's Manor (formerly St Leonard's), which still overlooks the park from St Leonard's Street.
The lake
The lake is thought to have been made in the early to mid-1800s by damming the Ewell stream. It may have been stocked as a fishing lake for the manor or nearby abbey.
The ice house
You'll find the remains of an ice house (listed Grade II by English Heritage) near the water in Ice House Field, next to St Leonard's Street.
The ice house chamber is believed to have been built between 1776 and 1789 for keeping ice from the lake for use in the manor kitchens.
During World War Two the field where the ice house is was used as a prison camp for interned Germans.
St Leonard's Tower
The ruins of St Leonard's Tower are a short stroll from the Manor Park car park. Maintained by English Heritage, the ruins are free to visit and explore.
Creating the park
Kent County Council bought the 52 acres that now form Manor Park Country Park in 1973 and opened it to the public in 1976.