Walking trails at Lullingstone Country Parks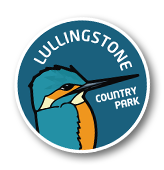 If you want to walk through some of the most beautiful countryside in Kent, Lullingstone Country Park is the perfect choice, any time of year. With 3 especially waymarked walking routes that make the most of Lullingstone's outstanding position in the North Downs Area of Outstanding Natural Beauty.
View the walking trails on a map of Lullingstone Country Park (PDF, 3.7 MB)
Discovery Trail - 1.5 miles (2.4km)
Designed for children, this route includes play equipment along the way. It also leads to a bird hide where you can sit and view some of the park's array of birdlife.
Woodland Walk - 2 miles (3.2km)
Enjoy breathtaking views of the Darent Valley. The route includes semi-ancient woodland habitats with a variety of trees, flowers and fungi. There are also great displays of wild flowers in parts of the site during the summer months, especially on the Orchid Bank.
Lullingstone Loop - 4 miles (6.4km)
You will pass Lullingstone Roman Villa and Lullingstone Castle as you take in magnificent views of the Darent Valley. Meet some of the park's most spectacular trees including the many chestnuts and hornbeam, and some of the most notable oak trees in England.