Value of EU Grant - €380,029,11
Name of funding programme - Interreg 2 Seas Mers Zeeën Programme
Start and end dates - January 2017 to December 2020
Triple A is the stimulation of the Adoption of low-carbon technologies by homeowners through Awareness and easy Access.
Triple-A is funded by the European Interreg 2 Seas programme and co-financed by the European Fund for Regional Development (ERDF). The project supports homeowners in several countries to adopt different low-carbon technologies in their homes. The project partners are based in Belgium, France, the Netherlands and the UK.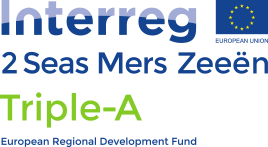 Two Universities:
Delft University of Technology (Netherlands)
Ghent University (Belgium)
Local authorities:
City of Antwerp (Belgium)
City of Breda (Netherlands)
City of Mechelen (Belgium)
City of Rotterdam (Netherlands)
Two public energy companies:
Public Service for Energy Efficiency (PSEE) in Picardie (France)
Autonomous Municipal Company – Energy Saving Oostende (AG EOS) (Belgium)
And one private utility supplier:
to achieve a market acceleration in the adoption of low-carbon technologies by homeowners
to test the Triple-A approach (improved access to, and awareness of low carbon technologies, to trigger the adoption of these low-carbon technologies by homeowners). Local Authorities involved in the project are aiming to:

test methods to raise awareness of different low-carbon technologies that are available on the market, to homeowners
test mechanisms that enable homeowners to better access these technologies, via demonstrations of technologies in real-life scenarios, and provision of consultancy and financial advice which are tailored to the individual needs and resources of homeowners
trial innovative new approaches to installing and adopting low carbon technologies. In the UK this will be testing the potential benefits of battery storage units for storing energy generated through solar panels

to develop sustainable, attractive and affordable mechanisms for supporting residents to make energy improvements to their homes
local websites across each country have been strengthened to provide more coherent advice for homeowners on installing low-carbon technologies in their homes
different approaches for installing low-carbon technologies have been tested in real-life scenarios. 8 installation models (housing retrofit models) are tested
the benefits of using home energy management systems (HEMS) are tested
in the UK, the benefits and pitfalls of battery storage for homeowners are identified
pop-up consultancy centres implemented to provide advice to homeowners on different low-carbon technologies
a guide developed for other Local Authorities on how to implement the Triple-A method
collaboration with local supply chains to develop attractive and affordable business models for the installation of low-carbon technologies in homes.
improved energy advice for homeowners available online
an opportunity to test innovative new low-carbon technologies and the benefits they can provide to Kent homeowners. In Kent, the effects of home-scale battery storage and solar energy generation will be tested
supply chain mobilised to support the market for installing low-carbon technologies
improved technical and financial advice for homeowners.