Cool Towns European Union Funding
Value of EU grant - €407,821.05
Name of funding programme - Interreg 2 Seas Programme 2014-2020
Start and end dates - September 2018 to September 2022
The Cool Towns project is for the spatial adaptation for heat resilience in small and medium sized cities in the 2 seas region. It aims to help urban areas in England, the Netherlands, Belgium and France minimise the heat-related effects of climate change by:
improving the understanding of overheating risk and effective heat management in urban areas
increasing awareness and use of green and blue infrastructure to reduce heat stress through urban design
demonstrating effective heat resilience through pilot investments
For more information about the project visit: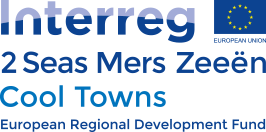 Gemeente Middelburg (Netherlands)
Gemeente Breda (Netherlands)
Provincie Oost-Vlaanderen (Belgium)
Stad Oostende (Belgium)
Southend on Sea Borough Council (SBC) (United Kingdom)
University of Greenwich (United Kingdom)
Université Picardie Jules Verne (UPJV) (France)
GreenBlue Urban (United Kingdom)
AUD Agence d'Urbanisme et de Développement de la Région de Saint-Omer et Flandre Interieure (France)
Hogeschool van Amsterdam (Netherlands)
Sioen Industries (Belgium)
Communauté d'agglomération du Pays de Saint Omer (France)
Observer partners
Provincie Zeeland (Netherlands)
Waterschap Scheldestromen (Netherlands)
Provincie Noord-Brabant (Netherlands)
Waterschap Brabantse Delta (Netherlands)
Gemeenschappelijke Gezondheidsdienst Zeeland (Netherlands)
Stad Brugge (Belgium)
Vlaamse Milieumaatschappij (Belgium)
Vlaamse Instelling voor Technologisch Onderzoek (Belgium)
Stad Mechelen (Belgium)
BSGO! De Reigers (Belgium)
Gemeentebestuur Merelbeke (Belgium)
Université de Lille (France)
Centre Ressource du Développement Durable (France)
NKWK Onderzoeksprogramma Klimaatbestendige Stad (Netherlands)
Stadsbestuur Eeklo (Belgium)
Proefcentrum voor de Sierteelt (Belgium)
Test and implement effective green and blue infrastructure to manage overheating risk in urban areas
Increase capacity of planning authorities, private and third sector organisations and the public to integrate heat stress reduction measures in urban design
Embed heat resilience in climate adaptation, spatial development, regeneration and growth strategies.
Increase in resilience to heat stress in urban areas
Develop new tools to map heat stress and identify effective measures to reduce overheating risk
Test the ease and effectiveness of implementing heat reduction measures in urban design
Build adaptation capacity to heat stress in urban areas in the county
Improve the ability to ensure quality of life in urban environments, both now and in the future
Increase public health and well-being outcomes by supporting delivery of nature-based design and resilience in Kent to minimise the impact of overheating.