What to do if you think your child has special educational needs
The first step is to explore the support available, and understand which is right for you. Answer a few questions to get some recommendations about the next steps to take, who to talk to and where you can find out about support.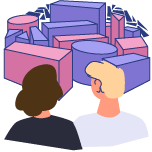 Answer a few simple questions to get some recommendations for you
What support is available
Most children and young people with special educational needs and disabilities (SEND) can have their needs met in mainstream education settings (early years, schools and colleges) and will be given support.
Every education provider has an obligation to support children and young people with SEND, as outlined in the:
Most children with SEND don't need an education, health and care (EHC) plan.
However, an EHC plan may be needed if:
a child or young person's needs cannot be met through the support they are currently getting in their mainstream educational setting, where the education setting has done everything it can and they require additional support.
despite the support provided, the child or young person isn't making progress in their learning or development, or when the progress they are making is due to significant levels of support.
Download an easy read guide to understand what an EHC plan is from IASK.
Who to talk to first
The first step is to talk to your child or young person's education setting to share any concerns you have and discuss support that can be put in place them.
Read our advice to find out who to talk to you and what support is available when meeting with the education setting.
Alternatively, you may be able to access support from local community services via: