What to do if you think your child has special educational needs
The first step is to explore the support available, and understand which is right for you. Answer a few questions to get some recommendations about the next steps to take, who to talk to and where you can find out about support.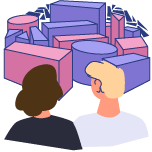 Answer a few simple questions to get some recommendations for you
Support available
Most children and young people with SEND can have their needs met in mainstream education settings (early years, schools and colleges).
Find out:
Free online training
For additional support in recognising and understanding your child's behaviour you can complete a wide range of online training courses as approved by the NHS via InOurPlace. Visit the InOurPlace website and use the code 'Invicta' for free access.