Shaping Climate Change Adaptive Places (SCAPE)
Value of EU Grant - €395,137
Name of funding programme - Interreg 5A 2 Seas Programme
Start and end dates - September 2016 to August 2020
SCAPE (Shaping Climate Change Adaptive PlacEs) is a project that brings together partners from the UK, Netherlands and Belgium. It aims to develop 'Landscape-Led Design' (LLD) solutions for water management that make coastal landscapes in the 2 Seas area better adapted and more resilient to climate change.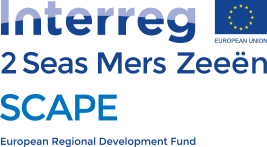 Ostend City Council (BE)
Farys (Public Water Management Company) (BE)
Province of West Flanders (Regional Council) (BE)
Flemish Environment Agency (BE)
Brighton & Hove City Council (UK)
Municipality of Middelburg (NE)
Waterboard Scheldestromen (NE).
We aim to:
increase the cost effectiveness of water management techniques
deliver pilots to test innovative tools and solutions that reduce surface flooding
provide wider community benefits.
SCAPE is part financed through the Interreg 2 Seas Programme. This is a European Territorial Cooperation Programme and therefore an integral part of the European Union's Cohesion policy. It promotes cross-border cooperation between the coastal regions of 4 member states: France, England, Belgium/Flanders and the Netherlands.
The project will bring together water managers, planners and architects from across the partnership to jointly develop an approach that uses the landscape to tackle water management problems in rural, urban and fringe coastal areas.
This project is being delivered through the Kent Downs Area of Outstanding Natural Beauty and its Darent Valley Landscape Partnership scheme.
It will focus on the lower catchment of the River Darent and deliver landscape-led enhancements that will support the reduction of the impact of drought on low flows in the river as well as flooding between Otford and the Thames.