FRAMES European Union Funding
Value of EU Grant - €350,000
Name of funding programme - North Sea Region Programme 2014-2020
Start and end dates - October 2016 to January 2020
The FRAMES (Flood Resilient Areas by Multi-LayEred Safety) project assesses the impact of and build resilience to flooding and climate change across the health and social care sector in Kent. FRAMES use the multi-layered safety concept to manage future risk by:
improving flood prevention measures
developing spatial planning measures
building emergency preparedness and response capability
reducing future risk through resilient recovery.
For more information, visit the project website.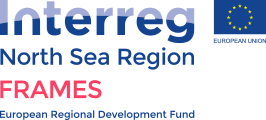 Province of Zuid-Holland (Netherlands)
Province of Zeeland (Netherlands)
Rijkswaterstaat Zee en Delta (Netherlands)
HZ University of Applied Sciences (Netherlands)
Veiligheidsregio Zeeland (Netherlands)
Rivers Trust Consortium (Rivers Trust, Tees Rivers Trust, Trent Rivers Trust, National Flood Forum) (United Kingdom)
Carl von Ossietzky University Oldenburg (Germany)
Jade Hochschule (Germany)
Oldenburgisch-Ostfriesischer Wasserverband (Germany)
Province of Oost Vlaanderen (Belgium)
University Gent (Belgium)
Danish Coastal Authority (Denmark).
identify vulnerabilities within health and social care infrastructure
assess social and financial impact of flooding
develop resilience measures, support tools and guidance to mitigate impact
test resilience measures, and share learning with partners.
comprehensive flood risk assessment to social care sector complete with social and financial impact analysis
general and tailored resilience tools and support adopted by sector
increased resilience in the case of flooding and other severe weather.
coping better with flooding
reduced potential cost of flooding to council and taxpayers
more secure service provision for vulnerable Kent residents.