Value of EU Grant to Kent County Council - €6.8 million
Name of funding programme - Interreg 2 Seas Programme
The 2 year technological and social innovation ENSURE project will make use of the community peer to peer support, which will allow societies to become proactive in addressing circumstances which create vulnerability across Kent. It will involve every relevant party to look at approaches which provide results of empowerment to those who have become vulnerable due to their circumstances.
The project is a cross border partnership involving 9 organisations from across the UK, France, Belgium and the Netherlands. It has been approved and funded by the Interreg 2 Seas Programme (co-funded by the European Regional Development Fund) and has a budget of more than €6 million.
ENSURE will create a comprehensive model. The model will provide complete system redesign led by front line workers to break down existing professional silos as well as a bottom up peer-supporter approach. By acting at both levels simultaneously it will:
reach people in a timely fashion
reduce the cost to society of the bigger 'labelled' problems further down the line
create less vulnerable communities
prove support where 'everybody counts'
enable positive community development
move people and their area from a downwards cycle to an upwards one.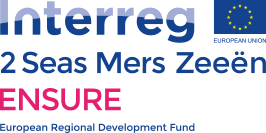 Project partners
Health and Europe Centre (United Kingdom)
IGEMO (Belgium)
Kent County Council (United Kingdom)
HZ University of Applied Sciences (Netherlands)
Antwerp University of Applied Sciences (Belgium)
Community Centre 'De Mussen' (Netherlands)
AFEJI (France)
Goes City Council (Belgium)
Community Arques (France).
Observer partners
FNO Zorg voor Kansen (Netherlands)
Verwey-Jonker Institute (Netherlands)
Multicultural Woman Foundation of the Schilderswijk (Netherlands)
First-line network organization of perinatal health (Belgium)
Centre of perinatal expertise De Kraamvogel (Belgium).
A new cost-effective, evaluated model to reduce and prevent vulnerability and the gap between people and state services.
By building on partner De Mussen's highly successful 'Moms for Moms' network of peer-to-peer community volunteers and linking three groups into a successful solution; professionals, peer supporters and vulnerable people.
The project also aims to deliver 2 training programmes, the first looking into health, social care and welfare professionals/ volunteers/ non governmental organisations, focusing on mentalisation (walk a kilometre in my shoes) led by front-line workers. The other, using peer-to-peer community volunteers acting as intermediaries between the vulnerable and state services; plus evaluation of these programmes.