Value of EU Grant - €10 million
Name of funding programme - Interreg France (Channel) England ASPIRE Programme
Start and end dates - September 2019 to February 2023
The ASPIRE (Adding to Social capital and individual Potential In disadvantaged REgions) programme involves 14 organisations from across southern England and northern France. This €10 million Interreg VA Channel project has been awarded more than €7 million by the European Regional Development Fund.
The project will provide a holistic approach to lowering obesity and unemployment rates in identified communities where these two issues are common and definitively linked. A recent Gallup poll shows that the longer a person is unemployed, the higher the rates of obesity, with rates reaching up to 32.7% after a year or more of unemployment. Nationally, the prevalence of overweight and obesity in the United Kingdom among adults (16+), has risen from 52.9% in 1993, 61.3 % in 2009 to 63.3% in 2018.
ASPIRE will give overweight and unemployed people the tools they require to make healthier lifestyle choices and improve their wellbeing and employability.
A new model, co-created using partner expertise in both fields, will combine the necessary support to increase employability with access to local health food produce and consequent weight loss.
Find out more about the ASPIRE EU funding and read our latest press release (PDF, 137.5 KB).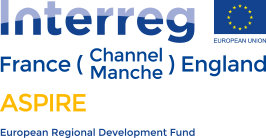 Lead Partner - WP - Health and Europe Centre
Kent County Council
Kent Community Health NHS Foundation Trust
Wellbeing People
Mission Locale Picardie Maritime
Maison pour l'Enterprise, l'Emploi et la Formation Santerre Haute Somme
Bournemouth University
C3 Collaborating for Health
Betteshanger Country Park Ltd
Les Anges Gardins
Vivons en Forme (Association Fédérons les villes por la santé)
Bournemouth, Christchurch and Poole Council (Sustainable Food City Partnership)
Medway Community Healthcare CIC
Centre Social Audrey Bartier
ASPIRE is an innovative programme to support people who are unemployed to reach a healthy weight, and gain employment, in areas where levels of unemployment and obesity are abnormally high. Using partner expertise and combining employability skills and healthier lifestyle choices, ASPIRE will support people holistically to achieve their health and career goals.
Increase the quality and effectiveness of service delivery to the most socially and economically disadvantaged groups through social innovation.