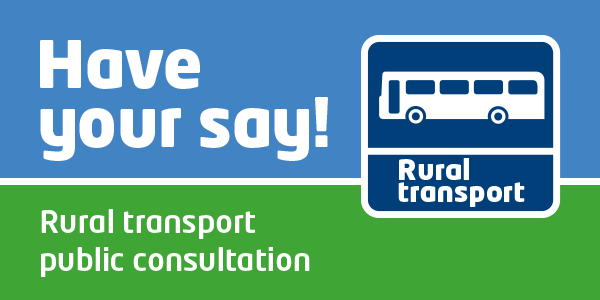 This consultation has now closed.
---
Update August 2018
Thank you to those that took part in the big conversation consultation by completing the online questionnaire and by attending the public meetings. Your feedback is really important to us and will help us make decisions about how we deliver the future of rural transport in Kent.
Analysis of the responses is underway and a consultation report will be presented in September 2018. We will be hosting a Bus Summit at County Hall in October which will provide an opportunity to announce the pilot schemes to be implemented in early 2019. The report and updated consultation information will be published on this website throughout the autumn.
The big conversation consultation
We want to find out if there is an innovative and sustainable way of providing transport to rural communities in Kent and we want to explore our ideas with you.
Against a backdrop of ever decreasing funding for local councils KCC want to maintain, and where possible, improve accessibility for those without an alternative means of travel in rural areas. This will help tackle social isolation and provide the right transport solution for the right customer need, at the right price.
You can stay up to date with the consultation via our Facebook and Twitter channels.
Your feedback
Your feedback is important and will help shape the future of rural transport in Kent.
During the consultation we asked about:
your use of public transport and the journeys you take
your priorities for a sustainable rural transport service
your thoughts on the 3 initial ideas we have developed
any additional information you think we need to consider when shaping the services for the future.
Read our consultation booklet to find out more about how we support public transport in Kent and our ideas for the future.
Public meetings
We held 12 public meetings across Kent to which everyone was welcome to attend. We presented our initial ideas and provided opportunities for people to ask questions.
June
| Date | Time | Location |
| --- | --- | --- |
| 19 June 2018 | 7 - 9pm | Dover Town Hall, The Maison Dieu, Biggin Street, Dover, CT16 1DL |
| 21 June 2018 | 7 - 9pm | Margate Football Club, Hartsdown Park, Hartsdown Road, Margate CT9 5QZ |
| 26 June 2018 | 7 - 9pm | Elite Venue Centre, Dunkirk Close, Gravesend, DA12 5ND |
July
| Date | Time | Location |
| --- | --- | --- |
| 4 July 2018 | 7 - 9pm | The Stag Community Arts Centre, London Road, Sevenoaks, TN13 1ZZ |
| 5 July 2018 | 7 - 9pm | Borough Green Village Hall, Borough Green, TN15 8DG |
| 10 July 2018 | 7 - 9pm | University of Kent, Darwin Conference Suite, Canterbury CT2 7NZ |
| 12 July 2018 | 7 - 9pm | Saint Mary's Bay Village Hall, Romney Marsh, TN29 0SW |
| 17 July 2018 | 7 - 9pm | Homewood School, Ashford Road, Tenterden, TN30 6LT |
| 18 July 2018 | 7 - 9pm | UK P Leisure, Avenue of Remembrance, Sittingbourne, ME10 4DE |
| 19 July 2018 | 7 - 9pm | Sessions House, Lecture Theatre, Maidstone, ME14 1XQ |
| 24 July 2018 | 7 - 9pm | The High Weald Academy, Cranbrook, TN17 2PJ |
| 25 July 2018 | 5 - 7pm | Princes' Park (Dartford Football Club), Darenth Road, Dartford, DA1 1RT |