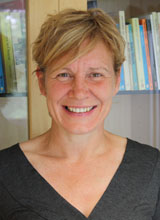 Director of Disabled Children, Adult Learning Disability and Mental Health
Roles and responsibilities
Penny's main responsibilities are to:
lead the development and implementation of the Your Life, Your Wellbeing Transformation strategy for Adult Social Services
work strategically with Kent and Medway Partnership Trust to deliver mental health services and represent Kent County Council's interests
develop relationships with partner agencies and influence the development of their frontline services
lead and support the transformation of adult social care to achieve personalisation of social care services for adults
make sure that adult safeguarding is a priority
work in partnership with Clinical Commissioning Groups (CCGs) on an alliance agreement for the provision of integrated services for people with learning disability.
Read the full job description (PDF, 276.1 KB) for the role of Director of Disabled Children, Adult Learning Disability and Mental Health.
Biography
Penny is the former Head of Strategic Commissioning for Learning Disabilities and has worked at Kent County Council in Adult Social Services for 30 years.
Penny began her career in Derbyshire working in day services for people with a learning disability before completing her social work training in Nottingham in 1985.
In 1987 she moved to Kent to set up the Independent Living Scheme, which supported people going from long stay hospitals into supported living opportunities. In 1997 she moved into commissioning for people with a learning disability. In 2002 she became the District Manager in Shepway.
In 2008 Penny was appointed as Head of Strategic Commissioning for people with a learning disability and the lead on NHS Social Care Transfer, the Good Day Programme and the Residential Change Programme for Kent.
Penny's salary is £108,380.
Penny's expenses for the past financial year (April 2016 to March 2017) are £402.87.
Our expenses policy applies to all staff. You can view a breakdown of all expenses claimed by our directors for the current and previous financial year.
Trustee of Folkestone and Hythe District Mencap.