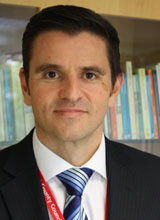 Director of Commissioning
Roles and responsibilities
Mark leads on the strategic commissioning of community based social care and health care services for adults and children, as agreed by the partner organisations.
Read the full job description (PDF, 235.6 KB) for the role of Director of Commissioning role.
Biography
Mark took up the role of Director of Commissioning with Kent County Council in September 2011.
Before this he was Assistant Director for Community Commissioning, a joint post between Hertfordshire County Council and NHS Hertfordshire. He has a strong commissioning background having also worked for the London Boroughs of Redbridge and Hackney.
Mark obtained an MSc in Social Services Management from the University of Birmingham in 2003. He has spent his entire career in local government, having joined Newport Borough Council in South Wales as a housing trainee straight from school.
Mark's salary is £112,239.
Mark's expenses for the past financial year (April 2016 to March 2017) are £183.90.
Our expenses policy applies to all staff. You can view a breakdown of all expenses claimed by our directors for the current and previous financial year.