Help to buy food, milk and vitamins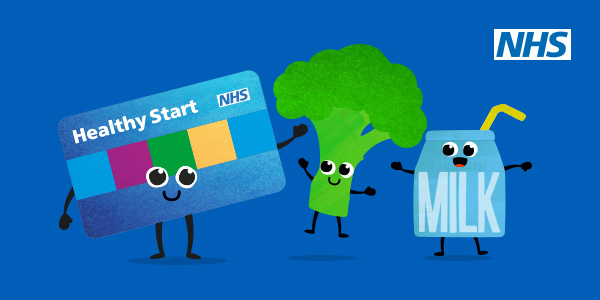 Getting your baby into healthy habits early on gives them the best start in life and reduces their risk of poor health later on. There's plenty you can do – from making sure you give little ones the best food for their age, to helping them develop strong muscles and bones.
Healthy Start
With the Healthy Start scheme you get a prepaid card which is reloaded with money every 4 weeks to spend on milk, plain fresh and frozen fruit and vegetables, and infant formula milk. The card also entitles you to free vitamins.
You could qualify for the Healthy Start scheme if you're on benefits and are at least 10 weeks pregnant or have a child under 4. If you're under 18 and pregnant you automatically qualify even if you are not on any benefits.
For more information visit the Healthy Start NHS website or download the NHS Health Start easy to read guide (PDF, 9.8 MB). You can also speak to your midwife, health visitor or GP. If your application is successful you will get a card through the post and money will automatically be added every 4 weeks.
Free vitamins
Young children may not get enough vitamin A and D even if they're eating well. If you're pregnant or breastfeeding, you may not get enough vitamin C, vitamin D or folic acid.
You can also use your Healthy Start card to collect these important vitamins for free for:
you while you are pregnant and up to your baby's first birthday
your child from 4 weeks until their 4th birthday.
Speak to you midwife or health visitor about where you can go to collect your free vitamins.
Get your vitamins posted to you
If you live in Kent (excluding Medway) and already have your Healthy Start card, we can send your vitamins out to you. You will just need to complete a request form, which will include your proof of eligibility, so that we can send your vitamins to you by post.
Request Healthy Start vitamins online
Other support
Find out what other support is available on our Start for Life page.