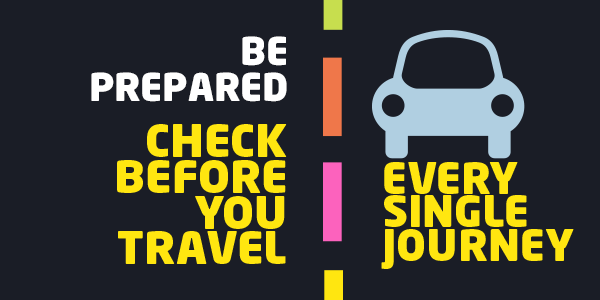 As a popular tourist destination and a key route to Europe, Kent's roads can get busy. If you need to travel by car, make sure you're prepared for #EverySingleJourney and #CheckBeforeYouTravel.
Plan ahead
Make sure you have checked the latest government advice, rules and restrictions around travel and ensure you have the correct paperwork such as passports and insurance.
The government also have a checklist to help you travel safely.
Know your route
If you need to travel please check the latest travel information from:
Give yourself time
Journeys may take longer than before, so plan for delays.
Prepare your car
Traffic jams can happen at any time so make sure you have fuel, food, drink, warm clothes or blankets and essential medicine supplies. If you have young children then pack extra provisions such as nappies.
Check your vehicle before you set off. Most breakdowns are avoidable and checking your tyres, lights, fuel, oil and water can help you have a safer journey.
On the road
Know your motorway service stations for taking breaks in case of delays. Check to see what services are on your route:
If you are coming to Kent en route to Europe consider taking a break before arriving in the county. You can find these services on the M25 as you approach M2/M26/M20 from either direction:
If you are stuck in a traffic jam
Stay in your car - emergency vehicles will be moving through the traffic and the queues could start moving at a moment's notice.
Keep in touch with the travel news - so you know what's happening.
If you need medical advice call 111 or visit 111.nhs.uk - 111 will help you get the right care. Please only call 999 in an emergency.
Please take your rubbish home with you for recycling or safe disposal – keeping a bag in your vehicle to collect up food packaging and other waste is a handy way to stop litter reaching the roadside where it can cause a danger to other road users, the environment and wildlife.
In the event of major disruption
When significant disruption is ongoing, emergency welfare assistance may be given to stranded drivers where it is safe and practical to do so.
We coordinate emergency response on behalf of the Kent Resilience Forum (KRF). For more information about how the KRF works to protect Kent visit the Kent Prepared website.
We know members of the public want to help those stuck in severe gridlock but, even when traffic is stationary, motorways are dangerous places and people should not put themselves at risk. KRF partners are trained to work in such environments and will work to ensure those caught in disruption get the support they need.
Other ways to travel
Perhaps there are other ways you can travel to help reduce your carbon footprint and emissions. Visit the Kent Connected website to compare ways to get from A to B in Kent.
Operation Brock
Operation Brock is a traffic management plan, which may be activated at times of cross-Channel disruption if there are significant delays at the border between Dover and Calais. The plans are flexible and can be activated depending on the volume and impact on flows around the county, particularly traffic leaving the country via the Kent-based ports.
For more details about the traffic management plans for Kent, visit the Kent Prepared website.
Advice for hauliers and lorry drivers
National Highways will implement Operation Brock if traffic begins to build in the east of the county and ask that lorry drivers:
check conditions before setting out
follow signs and signals on the roads
follow queuing instructions.
Depending on the type of goods you're transporting, you may need to visit the Sevington Inland Border Facility before going to Dover or the Eurotunnel. Find out how to get to the facility on GOV.UK.
Hauliers and other commercial drivers crossing the Channel need documentation and may require a negative COVID-19 test for some countries. Visit the DfT website, or an advice site at a motorway services or truckstop for more information and use lorry sites to purchase essentials.
To help protect local communities from disruption and help keep Kent roads clear, lorry drivers en route to Channel ports are urged to take rest before crossing into the county. Where possible, statutory breaks in Kent should be taken in dedicated truck stops where there are facilities such as cafes, toilets and showers.