Walking trails at Trosley Country Park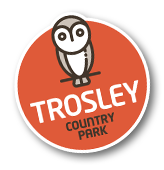 If you want to walk through some of the most beautiful countryside in Kent, Trosley Country Park is the perfect choice, any time of year. With 3 especially waymarked walking routes that make the most of Trosley's outstanding position in the North Downs Area of Outstanding Natural Beauty.
View the walking trails on a map of Trosley Country Park (PDF, 973.4 KB)
Woodland Walk - 2.5 miles (4km)
This is a flat waymarked route through the woodland taking in part of the North Downs Way. Enjoy far-reaching views of the Weald below. It extends the full length of the park, but you can take short-cuts at several places, making shorter circular walks possible.
Downland Trail - 2 miles (3.2km) plus 2 miles (3.2km) extension
This trail is a steep, hilly walk across the chalk downland, incorporating part of the North Downs Way. During spring and summer, the downs are full of wildflowers. In the autumn and winter, the paths can be slippery. You should allow an hour to complete the route and a further hour if you wish to add the extension loop.
Trosley Trail - 1.5 miles (2.4km) incorporating the Trim Trail
This route is part of the Woodland Walk. It has been selected to provide walkers, buggies and wheelchair users with a flat surface for most of the route. However, path condition is subject to seasonal changes, especially after periods of prolonged rain. The Trim Trail is designed for those people who want to improve their fitness whilst walking or jogging through the park. Various equipment has been provided around the route, along with full instructions of use at each exercise point.