Walking trails at Shorne Woods Country Park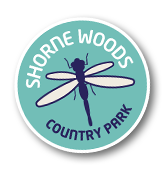 Explore Shorne Woods Country Park's 292 acres on several waymarked routes.
View the walking trails on a map of Shorne Woods Country Park (PDF, 2.6 MB)
Easy Route - 0.6 miles (1km)
A short route around the Visitor Centre/Cafe, playground areas through birch woodland, lakes and grassy glades. The route is dog friendly and has several dog bins along its route.
Purple Route - 0.8 miles (1.4km)
An easy to medium route that takes about 45 minutes. The walk takes in the fishing lakes, meadows and follows the edge of the ancient woodland. There are no steps along this route.
Red Route - 1.9 miles (3.1km)
A medium to difficult route that takes 1 hour and 15 minutes. The route follows the Purple Route, but then turns off to take in the Knoll viewpoint, Cardiac Hill and the Faerie Ring.
Explorer Trail - 3.7 miles (6km)
A difficult route that follows some challenging terrain, but takes in the site's best wildflowers, fungi and wetland areas. You'll see some of the park's best landscapes and habitats.
The Darnley Trail 6.2 miles (10km)
A circular route for pedestrians, cyclists and equestrians. It links Shorne Woods to the nearby Jeskyns and Cobham Wood sites south of the A2. Find out more about the Darnley Trail (PDF, 2.6 MB).
Heritage trail 2.2 miles (3.5km)
A medium to difficult route that takes about 1.5 hours but explores the history and archaeology pf the park, from 6,000 years ago to the present day.