Things to do at Manor Park Country Park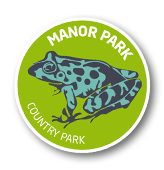 Walking at Manor Park
Walk along the lake on a flat-surface trail that has plenty of rest stops where you can enjoy being near the water, or explore the meadows and fields on the rougher, natural paths. For those looking for something more, join one of the two public footpaths that cross the park and venture out into Kent's countryside.
Find out more about the walking routes at Manor Park
Let your children play
Manor Park has a fantastic play area where your kids can climb, run and swing, all out in the open. Just a short stroll from the café, and with plenty of nearby seating, the play area is the perfect place for children to have some fun in the great outdoors.
Dog walking
Dogs are free to roam at Manor Park but must always be under close control.
They are not allowed in the play area and must be on leads around the car park, play area and café.
Dogs are not allowed to swim in the lake.
At certain times of the year, Chestnut Paddock and Abbey Field are grazed by cattle. Signs will be put on gates to forewarn you to put dogs on leads at these times.
Dog bins can be found alongside all surfaced paths on the site.
Geocaching
Become an explorer with Geocaching at Manor Park. All you need is a smartphone and a sense of adventure!
Visit the Geocaching website to find out more.
Join the junior parkrun
Every Sunday, Manor Park hosts a junior parkrun for children between 4 to 14 years old. The 2km course is a great way to get younger children out and active.
Visit the junior parkrun website to find out how to get involved.