Value of EU Grant - €395,339.40
Name of funding programme - Interreg Two Seas Programme (2014-2020)
Start and end dates - December 2019 to September 2022.
The objective of Upcycle Your Waste is to accelerate the adoption of circular business cases by small and medium-sized enterprises (SMEs) that transform waste flows into resources at local level.
The project aims to achieve this by developing and introducing knowledge, tools and facilities that enable SMEs and local authorities to make this transition.
For more information, visit the project website.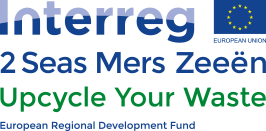 City of Roubaix (France)
Economisch Huis Oostende (Brussels)
Gemeente Den Haag (Netherlands)
Katholieke Hogeschool Vives Zuid (Belgium)
Kent County Council (UK)
Norwich Business Improvement District (UK)
OD Ijmond (Netherlands)
Technische Universiteit Delf (Netherlands).
The aims and objectives of Upcycle Your Waste are to have:
six pilots working with groups of SMEs in a specific business area, facilitating the adoption of circular business cases based on collective waste stream analysis, procurement and contracting of waste management
protocol for SMEs on procurement for upcycling; showing how SMEs can design and organise collective procurement of waste services to introduce (innovative) circular solutions at local level
a training and capacity building programme for SMEs on regulation, waste stream analysis, circular business cases and procurement.
upcycling guidance for local authorities and business district managers on working with SMEs to adopt circular business cases.
The overall result of the project is to have an increased adoption of circular business cases by SMEs in the partner areas, quantified as:
360 SMEs adopting circular business cases
20% of the pre-existing waste stream being upcycled on a structural basis.
Additionally, the project will lead to an improved capacity of local authorities, business district managers and SMEs in other parts of the 2 Seas region to introduce circular business practices, through our capacity building and dissemination and transfer activities.