Spirit of Try Angle Award county finalists
After the district winners of the Try Angle Awards are announced, the judging panel can choose three top nominees per category across all districts. These 24 nominees are then invited to the Spirit of Try Angle Awards.
An award is then presented to each category winner, and one overall countywide winner.
2019 county wide winner, Jessica Roberts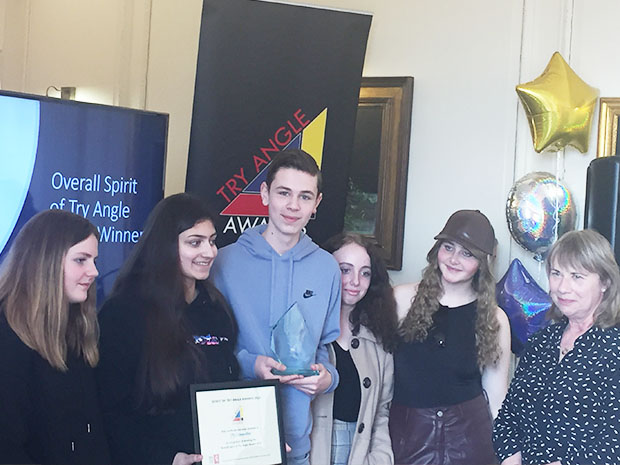 Category
Winners
Arts

Cody Jennings aged 17, Deal
Henry Luck aged 19, Aylesford
Oliver Winter aged 20, Hawley

Community action

Dartford Youth Council ages 11 to 18, Dartford
Louisa-May Lind aged 11, Canterbury
UASC Champions ages 11 to 18, Ashford

Courage

Jessica Roberts aged 16, Ashford
Jess Hone aged 15, Kingsnorth
Lauren Hone aged 18, Kingsnorth
Lucy Hoadley aged 15, Herne Bay

Good friends and young carers

Daniel Gurney aged 13, Sevenoaks
Michael Saunderson aged 17, Dover
Whitstable LGBTQ+ Club ages 11 to 18, Whitstable

Music

Matthew Wadey aged 20, Rochester
Parkwood Youth Club ages 11 to 18, Maidstone
Teddie Dann aged 13, Dartford

Personal development

Elle Green aged 17, Swanscombe
Horses 4 Health age 11 to 18, Gravesend
Rebecca East aged 20, Ramsgate

Personal intervention

Brendan Maher aged 11, Ashford
Joe Dale aged 17, Ramsgate
Joseph Bullock aged 16, Dartford
Lewis Roberts aged 17, Ramsgate

Sports

Bailey Eaton aged 11, Dartford
Oliver Mangion aged 23, Faversham
William Herbert aged 15, Ashford
Try Angle Awards
Try Angle Foundation Charity No 1098547