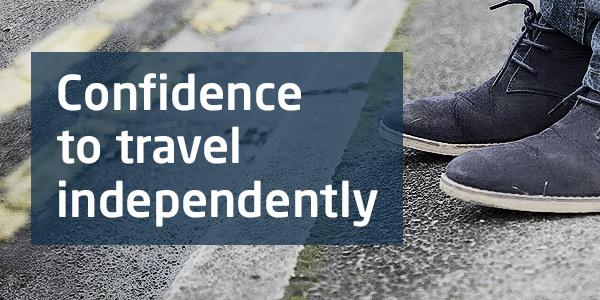 Travel training helps young people (up to 24 years old) with special educational needs learn how to travel to school or college by public transport.
The training will help build the young person's confidence in other aspects of their life such as:
future job opportunities
accessing new hobbies
social skills.
Your child will be trained on the most appropriate route, which is the safest, not necessarily the quickest, using a wide transport network.
They will have a personalised journey plan, which is specific to their needs.
Training is 1:1 and your child will have a personal trainer who supports them through their training and is their contact for support afterwards.
Training takes place at the time your child will need to travel to and from school, college or their learning provider. They can be trained on the morning and afternoon journeys or just the morning or the afternoon. This will be discussed at the first meeting. Extra training can be offered on days they are not attending a learning provider.
Once the journey has been agreed and risk assessments carried out, the parent, carer, legal guardian and young person will be asked to sign an agreement form to show their commitment to the training.
Your child will be supported to manage every aspect of their journey independently, including:
road safety
travelling by bus or train
problem solving eg if the bus is late or cancelled
personal safety
how and where to ask for help
use of mobile phone in case of emergencies
Regular feedback will be given to parents and the young person.
We encourage you to further develop and practice independent travel skills with your child by making regular use of bus or train travel.
Taster sessions
You can arrange taster sessions for your child to experience the journey before they commit to the training.
To be eligible for transport and to receive travel training, your child must:
attend their nearest appropriate school, college or learning provider
live more than 3 miles from the nearest appropriate school, college or learning provider.
Parents, carers, social workers, SEN officers or school/college staff can refer your child for training.
If your child would like to start the training before they start at a new school or college, complete the online application once they have been given their offer of a place.
If you are not sure whether your child is eligible for the scheme please contact us on ITT@kent.gov.uk
You are able to refer a young person for training if you are a parent, carer, social worker, school/college staff or you can refer yourself.
Once you have completed the application form, we will contact you within 7 working days to discuss the training.
Please ensure you have read KCC's Transport Eligibility privacy notice before you apply for travel training.
When your child starts to travel independently, they will be assessed by another trainer to ensure that they are competent and confident on the journey.
After this, you will all meet to discuss the training and complete the signing off paperwork.
Your child will then be issued with a bus or train pass for the dedicated journey to school or college. The trainer will continue to offer support if it is required.
If you move home or your child moves schools, please email us to let us know at ITT@kent.gov.uk.
Feedback
Please provide feedback on the training your child has received. Complete our feedback form.
Parent from Chartham
The travel training has been carefully and thoroughly set in place. Diggory has coped well through being prepared step by step at a pace he could cope with. He had been anxious initially but has gained confidence and it has raised his self- esteem. We have been very pleased with the whole process.
Ben from Ashford – journey to The North School
I learnt how to use the buses well without any stress. The trainer grew my confidence.
Jordan from Folkestone – journey to Laurel Centre, The North School
I am now able to get the train by myself. It helped me understand how to read when the train comes.
Parent from Hawley – journey to North West Kent College, Dartford
We had an introductory meeting with the trainer who explained everything. Really good service which now means that my son can travel independently to college. He has already used the road safety skills to walk to town on his own. A really flexible trainer as my son's college days/hours tended to change. Trainer helped with getting to know the bus routes and what to do if this all went wrong.
Parent from Deal – journey to Hadlow College, Canterbury
On the whole a very positive experience for Max and us. Would recommend this training for any child with special needs
Parent from Ashford
This is a wonderful initiative. My son has got more confidence and independence. Benjamin's trainer was great and easy to talk to. Benjamin got on really well with him and felt safe and comfortable. Brilliant!