SHIFT EU funded
Name of funded programme - Interreg 2 Seas Mers Zeeen SHIFT Programme
The development and evaluation of SHIFT, a programme about sexual health in the over 45 year olds ran from March 2019 to March 2023.
Kent County Council were one of the partners in the project which involved 11 organisations from the UK, the Netherlands, France and Belgium. The project engaged with those over 45 years of age, to create a tailored sexual health and wellbeing model.
The aim of SHIFT was to create a network of links with organisations who work directly with the vulnerable groups to help get people engaged and talking, so they know how to and can access services and look after their sexual health into middle age, and beyond.
The e-learning health and wellbeing training programmes for sexual health professionals and for the wider workforce will remain accessible through the SHIFT website.
The hub provides useful information and access to resources.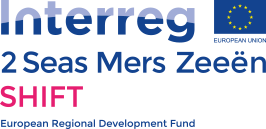 Health in Europe
Kent Community Healthcare Foundation Trust (United Kingdom)
METRO charity (United Kingdom)
University of Chichester (United Kingdom)
Kent County Council (United Kingdom)
Medway Council (United Kingdom)
East Sussex County Council (United Kingdom)
STI AIDS Netherlands (The Netherlands)
Antwerp University College of Applied Sciences (Belgium)
Odisee University College (Belgium)
Health Info Solidarity - Animation
To increase the development of social innovation applications in order to make more efficient and effective local services to address the key societal challenges in the 2 Seas area.
To empower people aged over 45 to participate in sexual health services and improve their sexual health and wellbeing, with an additional and specifically adapted focus on socio-economically disadvantaged groups across the 2Seas area. The empowerment will avoid assumption by using insight gathering and testing existing evidence.