Name of funded programme - Interreg 2 Seas Mers Zeeen PATH2 Programme
The development and evaluation of PATH, a programme which has raised awareness about low to moderate perinatal mental health. PATH has worked with employers, families, health and non-health organisations and ran from March 2019 to March 2023.
Kent County Council were one of the partners in the project which involved 13 organisations from the UK, The Netherlands, France and Belgium.
Information and resources are available on the PATH hub.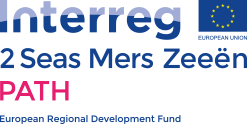 Health in Europe
Plymouth and District MIND (United Kingdom)
Southampton City Council (United Kingdom)
Odisee University College (Belgium)
Kent County Council (United Kingdom)
Institute of Health Visiting (United Kingdom)
Kent & Medway NHS & Social Care Partnership Trust (United Kingdom)
Hospital Centre of Douai (France)
Antwerp University of Applied Sciences (Belgium)
Bournemouth University (United Kingdom)
Ngo Attachment in Development (Belgium)
Maasstad Hospital (The Netherlands)
Antwerp University Hospital (Belgium)
The anticipated aims are to:
enable women, families and healthcare professionals to prevent, diagnose and successfully manage mild/moderate PMI by making major changes to the system
develop an inclusive and integrated health structure, which is driven and co-created with existing patients and expectant/ new parents in mind.
The anticipated objectives are to design, deliver and implement new online and face to face services to increase recognition, preparation and prevention of PMI for new families and their mental health wellbeing.