Innovation Cluster Accelerating Remote Sensing (ICAReS)
Value of EU Grant - €91,983
Name of funding programme - Interreg 5A 2 Seas Programme
Start and end dates - December 2016 to February 2020
The Innovation Cluster Accelerating Remote Sensing (ICAReS) project will develop a cross border innovation cluster to create the necessary conditions for innovation in the field of remote sensing and advanced data communication and processing. This will be based on the needs of priority sectors, nature, agriculture and water and infrastructure.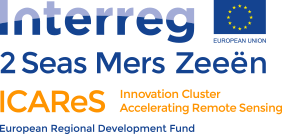 University of Southampton (United Kingdom)
Innovation Centre of Contactless Technologies "CITC" (developer of wireless communications) (France)
GeoInfra Ltd (Drone pilot and civil engineering consultancy) (Netherlands)
REWIN Economic Development Corporation (Netherlands)
Skycap (United Kingdom)
Southern Agriculture and Horticulture Organization (ZLTO) (Netherlands),
Waterways and Sea Channels (Belgium)
Dutch Association for Remotely Piloted Aircraft Systems (DARPAS) (Netherlands)
Institute of Agriculture and Fisheries (Belgium).
Aid cooperation in these sectors to create an aggregation of demands.
Accelerate the creation of innovative remote sensing products and services.
Substantial use of remote sensing and improved business operation in these sectors.
Clarification of different national legislations and a joint lobby for better regulations to create business opportunities.
ICAReS is part financed through the Interreg 2 Seas Programme. This is a European Territorial Cooperation Programme and therefore an integral part of the European Union's Cohesion policy. It promotes cross-border cooperation between the coastal regions of four member states; France, England, Belgium/Flanders and the Netherlands.
Establishment of a cross border innovation cluster on Remote Sensing (RS) applications with the sectors agriculture, water and infrastructure and nature management (end users), knowledge institutes, SMEs and branch organisations in the RS sector and governmental organisations. This includes joint actions to create an EU remote sensing market.
Creation of conditional instruments and services to facilitate this cluster and others, such as: two demo/test sites, an impulse group demand aggregation and a task force group legislation and regulations.
RS innovation roadmaps (strategies and action plans) for the participating and other sectors and for ongoing adjustments of legislation and regulations.
Increased public awareness and support for the use of remote sensing/drones.
This project is being delivered through the Kent Downs Area of Outstanding Natural Beauty and its Darent Valley Landscape Partnership Scheme.
It will focus on the use and development of remote sensing technology to aid landscape heritage conservation and management in the Darent Valley through the use of LiDAR and Unmanned Aerial Vehicles