IMPULS - Innovation in Manufacturers of Products Used in Life Sciences
Value of EU Grant - £363,000
Name of funding programme - Interreg 5A France Channel England Programme
Start and end dates - April 2021 to March 2023
IMPULS will help small life science and nutrition businesses from South East England and Northern France to collaborate, innovate and access business opportunities on the other side of the Channel.
The project will deliver a series of virtual webinars, organise international business matchmaking events and facilitate virtual access to life science industry events.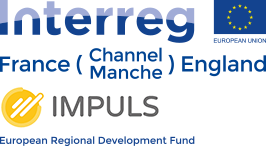 Kent County Council
South East Health Technologies Alliance
Eurasanté
Biotech Santé Bretagne
The aim and objective of the project is to help life science and nutrition companies on both sides of the Channel to collaborate, innovate and access international business opportunities.
Deliver a programme of information and training cross-border webinars for life science and nutrition companies for up to 100 businesses
Virtual business to business matchmaking events
Virtual access for 50 French and English companies to international trade shows and industry events.
Support for local life science businesses with innovation and internationalisation
Support for Kent businesses to access new overseas commercial opportunities
Boost to Kent's export levels and international trade capacity and helping businesses to grow
Support for Kent's Framework for Export Support and the 'Kent International Business' programme.