Climate resilient Community-based Catchment planning and management (Triple C)
Value of EU Grant - €279,660
Name of funding programme - Interreg 5A 2 Seas Programme
Start and end dates - September 2016 to August 2020
Triple C (Climate resilient Community-based Catchment planning and management) is funded by the European Regional Development fund and is a trans-national to implement a set of cost-effective actions to reduce flooding and erosion. The project partners are based in Belgium, the Netherlands and the UK.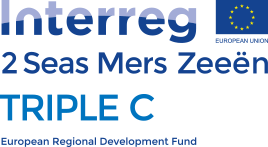 Farming & Wildlife Advisory Group South West (United Kingdom)
Devon Wildlife Trust (United Kingdom)
Brabantse Delta Water Board (Netherlands)
ZLTO (Southern Dutch Farmer and Horticulturists Organization) (Netherlands)
Province of Antwerp (Belgium)
Inagro (Belgium)
ABC Eco² (Belgium)
Province of East Flanders (Belgium)
Vegetable research centre East Flanders (Belgium)
The Flemish Environment Agency (Belgium)
Implement a set of cost-effective, innovative actions to reduce flooding.
Develop a new participative approach to problem solving and implementation with landowners.
Implementation of upstream water retention and erosion control measures to reduce flooding and associated issues further downstream.
Triple C is part financed through the Interreg 2 Seas Programme. This is a European Territorial Cooperation Programme and therefore an integral part of the European Union's Cohesion Policy. It promotes cross-border cooperation between the coastal regions of four Member States: France, England, Belgium/Flanders and the Netherlands .
Implementation and demonstration of water retention features and erosion control measures, and method developed to build knowledge capacity and effective implementation.
An enhanced knowledge base will stimulate application of principles elsewhere.
This project is being delivered through the Kent Downs Area of Outstanding Natural Beauty and its Darent Valley Landscape Partnership Scheme.
It will focus on the upper catchment of the River Darent and will work with relevant authorities, local communities and land owners to deliver natural flood measures (NFMs). They will deliver flood risk management using natural processes and other benefits. Measures being considered will include leaky ponds, overland and in-channel flow interceptors and meander reinstatement.