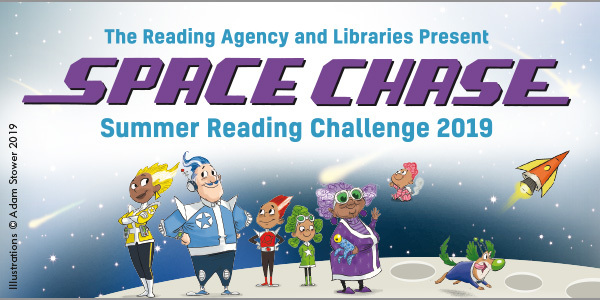 Space Chase – the Summer Reading Challenge is coming to Kent Libraries
The Reading Agency and Kent libraries are excited to introduce Space Chase, Summer Reading Challenge 2019, an out of this world adventure inspired by the 50th anniversary of the moon landing.
This summer, children aged 4 to 11 will help our super space family 'The Rockets' track down books nabbed by mischievous aliens! As they read library books, they will solve clues and collect special stickers to complete their mission folder. Can they find the aliens in time to save the day?
The challenge will begin on Saturday 13 July and end on Saturday 14 September. Taking part is easy and free – just visit a library to sign up.
Children can borrow books through the summer and earn stickers and other rewards along the way. They'll also get a certificate and medal after they've read 6 books.
Those taking part in the Summer Reading Challenge will also be able to play games from previous challenges, take part in competitions as well as accessing the Book Sorter and share their favourite reads and discover books recommended by other children.
Children can also earn 6 Kent Children's University Learning Destination credits for reading 6 books and an extra credit for each library activity or event they attend.
Volunteering in libraries
As well as being lots of fun, you will have the opportunity to share your love of reading, learn new skills, gain valuable work experience and make a positive contribution to your community.
Find out more about becoming a Summer Reading Challenge volunteer by contacting your local library or complete an application form.
Our partners
The challenge is funded by Arts Council England. The Reading Agency organises and runs the Summer Reading Challenge in partnership with the UK public library network, with support from Arts Award and the Children's University.