History of Trosley Country Park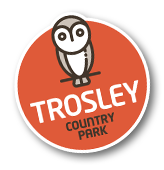 Prehistory
Over 5,000 years ago, farmers used the Trosley area for cultivation, clearing the chalk grasslands of vegetation to grow crops. After time, the area became over-farmed, so cattle and other livestock were introduced which helped shape the habitat we recognise today.
1800s
In 1870 Sir Sydney Waterlow bought large areas of land, including the village of Fairseat and a major section of Stanstead. Look out for the family crest on the small bridge which linked the two areas.
In 1887, he built Trosley Towers mansion and private drives, including Hamilton Drive, which still survives and runs from the site of the old house to Commority Road.
1900s
Sir Sidney died in 1906 and passed the estate to his son Philip. When Philip died in 1931, the estate was sold off, with a Mr Shahmoon buying Trosley Towers and the surrounding woodland in 1935. He demolished the mansion in 1936 and built Hamilton Lodge and stables.
One story suggests that the lodge and stables were built to accommodate the Shah of Persia and his racehorses on his visits to England.
World War II
The land that now forms the park was part of an officers' training camp throughout the war. You can still see a climbing wall, concrete lookout platform and pumping house from the war.
After the war, the land became derelict.
Creating the park
Kent County Council bought and opened the 170-acre Trosley Country Park in 1976.