About Trosley Country Park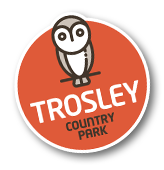 Once part of the Trosley Towers Estate, Trosley Country Park is now home to a rich variety of wildlife, and a mixture of woodland and open chalk grassland slopes.
The chalk grassland at Trosley is classified as a Site of Special Scientific Interest, while the grassland supports an array of butterflies every summer, including the Chalkhill Blue.
There are 3 waymarked trails – the Downland Trail is very steep in parts, while the Woodland Walk is much gentler. The Trosley Trail is suitable for buggies and wheelchairs. All provide spectacular views over the downs. There's also an outdoor trim trail should the steep paths not prove tough enough.
For the more adventurous, the park is also a good base to visit the Coldrum Stones, an ancient listed monument of 15 sarsen stones.
Our vision
We never forget that our Country Parks are, and always will be, for the people of Kent to enjoy. We see it as our duty to ensure everyone can make use of them. It is also our responsibility to protect and nurture our parks for today's and future generations.
Read our strategy to find out how we plan to achieve our vision
How we manage the park
We work tirelessly to protect Trosley's natural habitat and unique environment, whilst providing a safe and welcoming area for you to enjoy. This combination of conservation and public enjoyment is at the very core of the work we do.
Learn more about how we manage Trosley Country Park (PDF, 10.4 MB)
The history of Trosley
Trosley Country Park has over 5,000 years of rich and varied history. Farmed since prehistoric times before becoming part of the Trosley Towers Estate in the 1800s, the park is a fascinating example of how humans interact with the natural space around them.
Learn more about the history of Trosley Country Park
Wildlife and plant habitats
Part of Trosley Country Park has been designated a Site of Special Scientific Interest, due to the chalk grassland areas, which are home to a range of wild flowers and a fabulous array of butterflies each summer, including the Chalkhill Blue and the rare Musk Orchid.
Award winning
We take huge pride in our Green Flag award. It is a testament to the dedication of our wardens and staff that the park has been given the Green Flag award every year since 2009. The park was also awarded a Silver Medal in the Country Parks category of the South and Southeast in Bloom.