About Lullingstone Country Park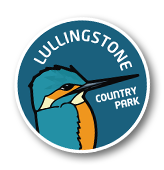 Lullingstone Country Park is internationally important for its collection of ancient trees, with over 300 veteran oak, beech, ash, hornbeam and sweet chestnut, some of which are thought to be 800 years old. Find out more in Lullingstone's Veteran Trees leaflet (PDF, 795.8 KB). The park also has areas of chalk grassland that fill with spectacular displays of orchids and other wild flowers in spring and summer.
Lullingstone Country Park is one of the 70 woodlands chosen to be dedicated to Her Majesty on behalf of the Platinum Jubilee.
For those wishing to venture into the wider countryside, follow a 6.5 mile circular walk passing through the nearby village of Shoreham.
Meanwhile just to the north of the site, Lullingstone Roman Villa is an English Heritage site featuring spectacular mosaics and rare Roman wall paintings.
Lullingstone Castle and the World Collection of Plants are nearby too, with its national collection of Eucalyptus.
The Darent Valley Path runs past the park, offering yet more opportunities to explore the local countryside.
Visit Lullingstone Country Park.
Our vision
We never forget that our country parks are, and always will be, for the people of Kent to enjoy. We see it as our duty to ensure everyone can make use of them. It is also our responsibility to protect and nurture our parks for today's and future generations.
Read our strategy to find out how we plan to achieve our vision
How we manage the park
We work tirelessly to protect Lullingstone's natural habitat and unique environment, whilst providing a safe and welcoming area for you to enjoy. This combination of conservation and public enjoyment is at the very core of the work we do.
Learn more about how we manage Lullingstone Country Park (PDF, 10.4 MB).
The history of Lullingstone
Lullingstone Country Park has a rich and varied history. Settled for over 10,000 years, the park is a fascinating example of how humans interact with the natural space around them.
Learn more about the history of Lullingstone
Wildlife and plant habitats
Lullingstone is renowned for its ancient woodland, but it is also home to a diverse range of wildflowers, particularly orchids in the spring and summer, and animals.
Award winning
We take huge pride in our Green Flag award. It is a testament to the dedication of our wardens and staff that the park has been given the Green Flag award every year since 2009. The park has also been awarded a Gold Medal in the Country Parks category of the South and Southeast in Bloom campaign every year since 2010.