About Brockhill Country Park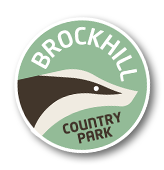 Brockhill's lake, woods, meadows, picnic and play areas – along with the excellent Brockhill Café – make it a great spot for a family day out.
Once part of the estate of a Norman manor, Brockhill Park has a central lake, open grassland and meadows, and all the facilities you need for a family day out, including a picnic area, a play area and refreshments at the excellent Brockhill Café.
The park is rich in wildlife, including marbled white butterflies, green woodpeckers and carpets of snowdrops. It is also a local wildlife site and has 3 distinctive areas to explore:
the deer paddock is an attractive grassy area featuring trees such as the walnut and the variegated sycamore
the lake is a shady oasis for wildlife fringed with overhanging trees, where ducks can be found paddling around its edges
the valley is the largest area of the park, with alder trees running along its centre, marking the course of the Brockhill Stream as it wends its way down towards the nearby Royal Military Canal.
Our vision
We never forget that our Country Parks are, and always will be, for the people of Kent to enjoy. We see it as our duty to ensure everyone can make use of them. It is also our responsibility to protect and nurture our parks for today's and future generations.
Read our strategy to find out how we plan to achieve our vision
How we manage the park
We work tirelessly to protect Brockhill's natural habitat and unique environment, whilst providing a safe and welcoming area for you to enjoy. This combination of conservation and public enjoyment is at the very core of the work we do.
Learn more about how we manage Brockhill Country Park (PDF, 1.6 MB)
The history of Brockhill
Brockhill Country Park sits on the former Brockhill Park Estate, historically linked to Saltwood Castle. It's likely the old estate was a game estate to the castle during Norman times, supplying meat, fish and timber.
Award winning
We take huge pride in our Green Flag award. It is a testament to the dedication of our wardens and staff that the park has been given the Green Flag award every year since 2007. The park has also been awarded the Gold Medal in the Country Parks category of the South and Southeast in Bloom.