Emergency Active Travel Fund Schemes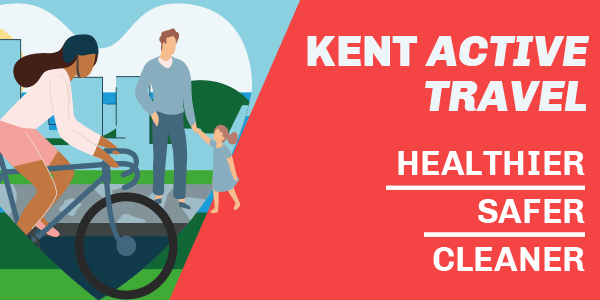 We have been awarded £1.6 million from the first round of the government's Emergency Active Travel Fund to encourage more people to walk and cycle across Kent.
The schemes are being implemented on a trial basis as part of the government's response to the COVID-19 pandemic.
Each scheme in phase 1 had to be delivered within the government's 12 week timescale. We have designed the schemes to:
enable more people to walk and cycle
give people more space so that they can socially distance and feel more confident and safer when out and about
provide a greener street scene, with more plants and trees to help to improve air quality.
We discussed the Emergency Active Travel Fund with district and borough councils and once schemes were identified we placed the notices in the scheme locations.
The schemes in the first phase of funding have been implemented and we are awaiting an announcement from government about whether we will receive further funding for additional active travel projects.
Active Travel schemes
20 mph limit zones
Highway schemes
Highway schemes across the county, involving the introduction of pedestrianised zones and cycle lanes.
Public right of way schemes
Public right of way schemes (PROW) schemes across the county, involving the vegetation clearances and route renewals.
View our public right of way schemes
How the schemes are assessed
We will be assessing the effectiveness and impacts of each scheme in the following ways:
using Vivacity System cameras on different parts of the road or street to observe what works well and where there are any issues that need to be fixed
using automatic traffic surveys (rubber tubes placed across the road at each site) to provide information such as vehicle type, speeds and volume
by conducting public opinion attitudinal surveys, where a member of KCC staff will visit each site to get face-to-face feedback from the local community and provide questionnaires to get a wide range of views about the scheme
listening to customer feedback to understand how the schemes are affecting residents submitted on our website, on our social media channels and by email activetravel@kent.gov.uk.
We have published details of each of the schemes shown in the links above, where you will also find information about when each scheme will be reviewed and how to share your feedback with us.