Digital Champion Network volunteers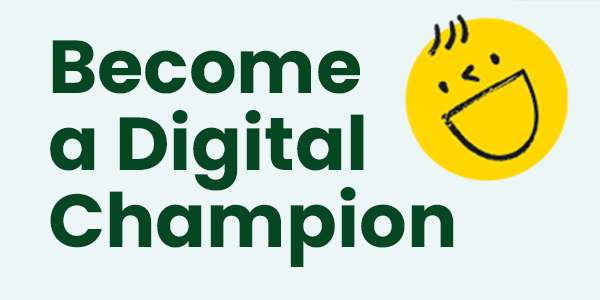 We are looking for volunteers to join the Digital Champion Network to support and improve the digital skills of our communities.
What Digital Champions will do
You don't need to be a tech expert – you just need patience and a willingness to learn.
There is no strict commitment and you can support your family, friends and colleagues, while you develop your Digital Champion skills and knowledge. There are opportunities to help and support your wider community.
The things you could help people in your community with are:
setting up an email account or sending emails
accessing public services online
using an online GP booking service
understanding the benefits of being online for things like shopping and banking
setting up communication tools and apps like Zoom or Microsoft Teams
using their phone, tablet, laptop or other digital device.
This could be delivered one-to-one, in training sessions or presentations, or by creating resources for the Digital Kent website.
Register your interest on the Digital Kent website
If being a Digital Champion is not for you, there are also lots of other volunteering opportunities in Kent.
More about Digital Kent
We established Digital Kent in 2021 as part of the Helping Hands scheme which was set up to help families and businesses hit hardest by the pandemic. The Helping Hands scheme allocated £2.5 million to tackle digital exclusion in Kent and a further £2.5 million was allotted from the Contain Outbreak Management Fund (COMF) for digital inclusion.
Our Digital Kent team are managing a number of projects, initiatives and schemes to improve digital inclusion and capability. Visit the Digital Kent website to find out more. The support and services that Digital Kent offers are time-limited, due to the nature of the funding available.