About White Horse Wood Country Park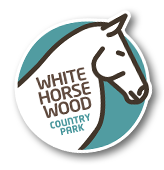 White Horse Wood is set within the Kent Downs Area of Outstanding Natural Beauty and offers wonderful walks, local history and breathtaking views of Kent's renowned countryside.
Explore the park and discover the medieval ruins of Thurnham Castle and the remains of an Iron Age settlement.
You will also spot the fantastic sculptures that were designed to commemorate our wonderful ash trees that were lost to Ash dieback disease.
A Site of Nature Conservation Interest, over 20,000 trees have recently been planted here, including oak, ash, silver birch, wild cherry and crab apple. Five hectares of land has also been seeded to create an area of open grassland.
In time, these improvements will create an important habitat for a range of unusual flora and fauna, further boosting Kent's natural heritage.
Enjoy the amazing views of the mid-Kent countryside from the easy access route that goes around the park. Access other walking routes from the park and explore The Larches, one of the area's most remote but beautiful natural spaces.
Accessibility and easy access paths
The main path at White Horse Wood is flat and wheelchair-friendly and allows you to navigate most of the park.
Read more about accessibility at White Horse Wood (PDF, 19.6 KB)
Walks
Look out over the weald from the main White Horse Wood walking route. You will also be able to join the North Downs Way that goes all the way to Canterbury or down to the south coast of Kent.
Find other local walks on the Explore Kent website
Dog walking
Dogs are very welcome at White Horse Wood Country Park.
Please remember to clear up after your dog and put waste in the dog bins provided.
A history of the park
The ruins of Thurnham Castle, a medieval motte and bailey castle that was built in the reign of King Henry II, can be found on the hillside. The Thurnham family who owned the castle in the 12th century is famous for going on crusade with King Richard the Lionheart.
Documents from 1215, however, refer to the lands within the walls of the castle, which may indicate the site was already in ruins by the reign of King John.
Detling Airfield
The park formed part of the Detling Airfield, which was active during the World War One and World War Two. After this, part of the airfield was still used for training and later became the Kent County Showground.
Creating the park
White Horse Wood is our newest Country Park. We bought the site in 2000 and the public woodland was created as part of the Millennium Projects Scheme to celebrate the turn of the century.
Park management
This park is managed by the Kent County Council Kent Country Parks team.
Read the Kent Country Parks strategy 2017-2021 which sets out the aspirations for our Kent Country Parks service over the next 3 years.