About Shorne Woods Country Park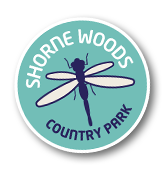 Make the most of Kent's stunning countryside at Shorne Woods. With everything you need to enjoy a day out in the great outdoors, it's no surprise Shorne Woods is one of the most popular country parks in the county. The long list of things to see and do here includes the eco-friendly visitor centre and café, a volunteer garden, orienteering, fishing lakes, a trim trail and picnic and play areas – not to mention the 292 acres of rolling woodlands, wetlands and meadows that can be explored via a variety of waymarked trails.
Historically part of the medieval Cobham Hall Estate, the area was used for clay extraction for the local cement industry from the 1920s to the 1970s. These clay pits are now the flat grassy areas where the picnic and play areas and the visitor centre can be found.
We have put a lot of effort into making Shorne Woods as accessible as possible – discover over 2 miles of easy access routes that are perfect for wheelchair users and buggies, or you can hire one of our electric 'Tramper' mobility vehicles and explore even further.
Visit Shorne Woods Country Park.
Our vision
We never forget that our country parks are, and always will be, for the people of Kent to enjoy. We see it as our duty to ensure everyone can make use of them. It is also our responsibility to protect and nurture our parks for today's and future generations.
Read our strategy to find out how we plan to achieve our vision
How we manage the park
We work tirelessly to protect Shorne Wood's natural habitat and unique environment, whilst providing a safe and welcoming area for you to enjoy. This combination of conservation and public enjoyment is at the very core of the work we do.
Learn more about how we manage Shorne Woods Country Park (PDF, 14.3 MB)
Wildlife and plant habitats
Discover the natural world at Shorne Woods. Look out for the many wildflowers that cover the meadows and woodland, particularly bluebells in spring. Keep an eye out for birds in the trees and dragonflies on the lake.
Learn more about Shorne Woods' wildlife and plant habitats
A history of the park
Shorne Woods was once part of the medieval Cobham Hall Estate and many historical artefacts have been found on the site of the old manor. In the 1920s the area was used for clay extraction before being used as an army camp during World War II.
Award winning
We take huge pride in our Green Flag award. It is a testament to the dedication of our wardens and staff that the park has been given the Green Flag award every year since 2008. The park has also been awarded the Gold Medal in the Country Parks category of the South and Southeast in Bloom.