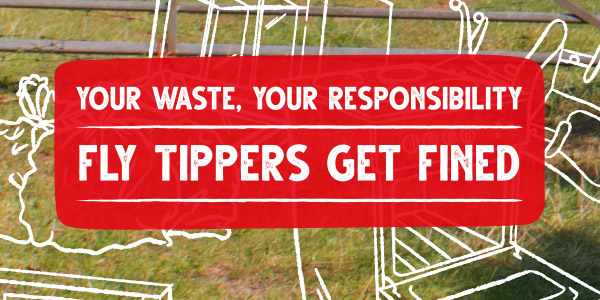 Report flytipping
Flytipping is dealt with by your local district or borough council.
Learn more about the effects of flytipping with our videos
Fly tipping has a real and significant effect on our community. Learn more with our video explainers:
Dispose of your waste correctly
When disposing of waste, you have a responsibility to make sure that it is disposed of correctly.
If you want to dispose of household items, you should either use a Household Waste Recycling Centre, contact your local authority for a bulky collection or ensure the disposal contractor you use is registered as a waste carrier via the Environment Agency.
Great British Spring Clean
Read the latest updates for this year's Great British Spring Clean
You can ask your local council if you can borrow a litter picking kit and organise a litter picking team to help clear up the litter that blights our towns, villages, countryside and coastline. By organising your own event it will ensure that any litter collected will be disposed of responsibly.
Anyone can get involved and you can sign up to take part in litter-picking events near you via the Great British Spring Clean website and on the Keep Kent Clean Facebook page.
You must ensure that you arrange socially distanced activities due to COVID-19 and follow Government guidelines.
If it is appropriate, you can ask us to co-host your event via Facebook.
Did you know?
Social media accounts using the hashtag #KeepKentClean have reached 97,832 people.
Councils in England spend over £700 million on street cleaning services every year.
COVID-19 PPE is currently one of the most littered items.
About 2.25 million pieces of litter are dropped onto the streets of the UK every day, with 30 million tonnes of rubbish collected from England's streets each year (enough to fill 4 Wembley Stadiums).
According to the Local Government Association, the average piece of gum costs 3p to buy but around £1.50 (50 times the price) to clean up.
The RSPCA receives 700 phone calls a year relating to animals injured by our litter.
It takes 450 years for a plastic water bottle to decompose.