How you can help pollinators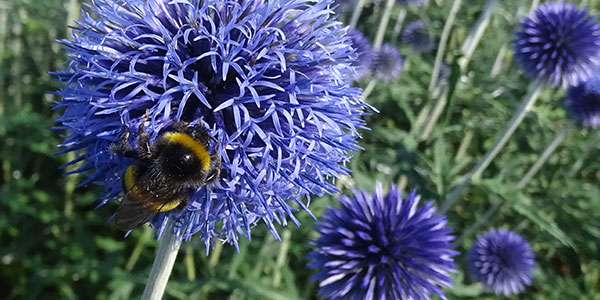 Understanding what pollinators need will give you an idea of how you can help. Pollinators are a diverse group and have a variety of needs throughout the different stages of their lifecycles.
What you can do
Varied habitats are key for pollinators. You cannot cater for all the many pollinator species, but if you use the advice and tips on this page it will help you provide a home to significant numbers. Even small pockets of plants or dead wood are all still valuable.
Kent's Plan Bee Pollinator Challenge
In partnership with Kent Children's University (KCU), we have created an education pack for children to promote learning about pollinators.
Find a years' worth of seasonal indoor and outdoor activities, from keeping a pollinator diary and planting for pollinators, to a whole host of creative activities! If you are registered to KCU, then completing these challenges will earn you points towards learning credits.
View the education pack and links to the resources required to complete all the challenges on the KCU website.
We would love to see your 'get buzzy' creations and your pictures could help inspire someone else for the challenge. If you post a picture on Facebook, be sure to tag @KentChildrensUniversity and @KentsPlanBee and use #KCUBeeChallenge.
Go wild for pollinators
As part of the Wildlife Trust's 30 Days Wild campaign, we want you to get involved with our 'go wild for pollinators' campaign. Over the next 30 days we will be sharing some great tips and guidance in making the most of the nature around you.
Download our 30 days wild for pollinators activity calendar (PDF, 363.2 KB).
Download our ideas for other activities (PDF, 625.4 KB).
Plants for pollinators
There are many great plants available for pollinators. There are lots of non-native plants to provide nectar and pollen for pollinators and can be a great addition to your garden borders, but think about native species to provide leaves and other vegetation the larvae need to feed on during spring and summer.
Let it grow
Allowing areas to grow during the spring and summer months provides opportunities for feeding and nesting pollinators. Try leaving some of your lawn to turn into a mini-meadow where butterflies can breed and the sound of grasshoppers can return.
Places to nest and shelter
Providing bee hotels and bug mansions will encourage a range of pollinating insects. There are a lot of bee hotel designs out there. Choose or make one with holes between 2mm and 10mm that are blocked at one end. Log piles will also provide similar habitats and opportunities for beetles and flies. Here are some ideas of ones you can make:
Bee banks and scrapes can be created in sunny areas for ground nesting bees and wasps. They also provide opportunities for overwintering sites for pollinators like bumblebees and are great basking spots for lizards.
Over the winter, places to shelter are key for pollinators so try not to deadhead all of the plants or rake up all of the leaves. Leave some in your borders, or in piles to give some refuges for these insects in the winter.
Go pesticide free
Some plants people consider 'weeds' and want to control with herbicides are often those pollinators will feed on. Think about if it is necessary to use these chemicals, or if you could hand weed them or, better still, leave them be.
Plants, bulbs and seeds from garden centres are often treated with insecticides and other pesticides, even those labelled as 'Plants for Pollinators'. Insecticides can be particularly harmful to pollinators, so it is always worth checking before you buy them. For tips on going pesticide free in your garden take a look at:
Find out about Kent's pollinators
Kent is one of the most diverse counties in the UK for insects. It is home to a number of rare and scarce pollinator species and holds significant populations of some of these. Find out about these pollinators and how to report any sightings.