Technology Resilience vouchers
The Technology Resilience voucher scheme will help small companies take advantage of digital technologies.
Businesses in Kent were able to apply for a voucher of up to £1,000 to implement a digital, or technology-based, project to help improve business resilience and support economic recovery. We had enough funding to support around 300 businesses in Kent.
The funding was provided by the European Regional Development Fund C-CARE (Covid Channel Area Response Exchange) project.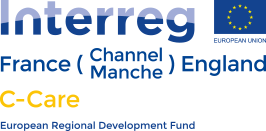 Successful applicants can redeem a voucher for services in the following areas:
web-based activities
remote working technologies
software solutions and apps
digital marketing and promotional activities
skills and capacity building
equipment and small investments to facilitate digital activity.
Web-based activities
Example projects may include:
enhancements to existing websites
new landing pages that facilitate online sales or bookings
integrating e-commerce and supply chain platforms.
Remote working technologies
Example projects may include:
pivoting to cloud storage to help with remote team management and operational efficiency
subscriptions to online collaboration tools
purchasing content management systems (CMS), or customer relationship management (CRM) systems.
Software solutions and apps
Example projects may include:
development of apps or software solutions to better connect with customers
cyber security and data protection solutions (excluding projects to meet statutory obligations linked to the General Data Protection Regulation).
Digital marketing and promotional activities
Example projects may include:
domestic or international e-commerce activities
expanding customer reach through digital marketing, video marketing, social media or search engine optimisation (SEO) activity
providing assurance of 'Covid-secure' operations through digital marketing
virtual product or business showcasing such as virtual tours, 3D models, virtual reality (VR) or augmented reality (AR).
Skills and capacity building
Example projects may include:
staff training or digital upskilling toward hybrid working, digital marketing, programming, cyber security or other digital disciplines
purchasing virtual meeting tools and training for improving efficiency and connecting to customers.
Equipment and small investments to facilitate digital activity
Example projects may include:
investments or equipment to facilitate a new digital process,
investments or equipment to improve digital resilience (including spatial computing)
digital infrastructure solutions, such as those for for click and collect, invoicing, infrastructure systems, remote working solutions (including voice over IP).
To apply for funding your organisation must:
have met the EU definition of an Small or Medium Enterprise (SME)
be based within the Kent County Council geographic area (this excludes Medway)
employ fewer than 250 employees
have a turnover of less than £44 million
not have received more than £180,000 of public sector funding and support over the last 3 years.