Loneliness Awareness Week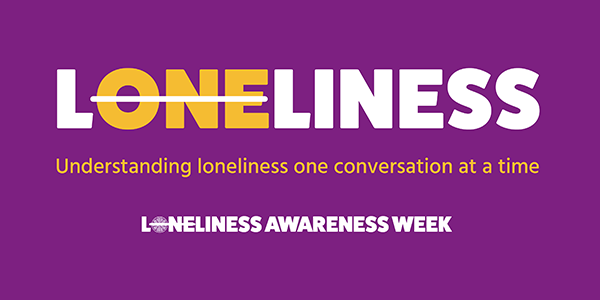 This year's Loneliness Awareness Week is taking place between 15 an 19 June and focuses on 'One Less Lonely Voice'.
Now more than ever, we all have a role to play in tackling loneliness and social isolation. To do this, we must understand it, one conversation at a time.
For the first time, some of us are experiencing loneliness and isolation. Others have seen an increase, in their already socially isolated and lonely day-to-day life.
Help one another
Did you know:
there are an estimated 30,000 people in Kent aged over 65 who are suffering from acute loneliness
loneliness can affect your health more than smoking up to 15 cigarettes a day. Which can increase the risk of premature death by 30%
half a million older people go at least 5 or 6 days a week without seeing or speaking to anyone.
To support one another you can:
What we're doing to help
Our staff are pledging small acts of kindness in their own communities:
Sam: "I pledge to talk to my neighbours more as I recognise that I might be one of the few people they see that week".
Mike: "I have been texting my elderly neighbour and picking him up household essentials when I go to the supermarket."
Toni: "I pledge to make regular calls to people and make the time to call those I know could be feeling isolated".
Paul: "I pledge to talk to all of my friends, not just the ones I see regularly – to keep in touch!"
Are you able to make a big difference to someone in your community with a small act of kindness? Sign up to Kent Together to help one another.
"Loneliness is a highly personal experience that can have a significant impact on someone's physical and mental health. The current COVID-19 crisis has highlighted loneliness as an experience that anyone can have and raised awareness of this issue across the country. Many people who would not have considered themselves lonely have felt so as a result of implementing social distancing measures, becoming disconnected from friends, family and their communities.

There has been a groundswell of volunteers offering to support isolated and lonely people in their neighbourhoods and communities during this time. Sadly, even as lockdown rules ease and we return to a new 'normal' many people in our communities will continue to be lonely and isolated. This is why in Kent we are proud to support national Loneliness Awareness Week and continue to raise awareness of this issue."

Clair Bell, Cabinet Member for Adult Social Care and Public Health