Healthy eating for families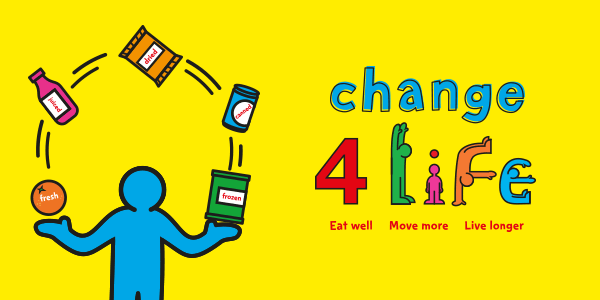 Without realising it, we're all eating too much sugar, saturated fat and salt. And that includes our kids.
You might think that childhood obesity is hard to ignore. But even if children seem fine on the outside, eating unhealthily can lead to the build-up of harmful fat on the inside that we can't see. This can lead to serious diseases in the future, like heart disease, type 2 diabetes or even some cancers.
Recipes and snacks
Stuck for healthy ideas? Try these for inspiration:
Smart Recipes app
Not sure if your kids will eat healthier food?
We asked 3 families from Kent to share their experiences of making some simple lifestyle changes using the Smart Recipes app.
Healthy eating tips
We were all brought up to finish the food on our plates, but sometimes it's more than we really need. These days, larger portion sizes are also more readily available, which means that it's very easy to eat too much. Try these ideas to help you give your kids the right amount of food.
Me-size bowls - plates and bowls are bigger these days and a child-size portion may not look like enough. Try getting child-sized ones for the kids, as it will make it easier to tell if they're getting the right amount.
Snack time - fresh fruit and veg are always a great choice for a snack but if you're out and about and want to buy packaged snacks, look out for '100 calorie snacks, 2 a day max'. It's not about calorie counting but a guide to help you make quick decisions on packaged snacks when faced with lots of choice. Try these healthy snack ideas.
Get the kids involved - let the kids watch you serve the meals. This way they're more likely to understand the different portion sizes for different ages.
Start small - give them less to start with, they can always ask for seconds. You'll have less waste and they won't eat too much.
Just a mouthful - if you're worried about picky eaters not getting a balanced diet, encourage them to try a mouthful of everything on the plate, rather than all of it. You might find they try more things that way.
Clear plate conundrums - don't worry if they don't clear their plate. If they say they're full, the chances are they are full!
Water regularly - if the kids say they're hungry while you're cooking, try giving them a glass of water to fill the gap rather than a snack that could ruin their appetite.
Babies and young children
Start4Life
Start4Life gives parents all the advice they need to help their children be healthy in the first few years of life and beyond. Just like Change4Life, it offers free support, hints, tips and videos. So if you're expecting a little one, or you're a new parent, visit the Start4Life website and sign up.
Healthy Start vouchers
Getting your baby into healthy habits early on gives them the best start in life and reduces their risk of poor health later on. There's plenty you can do – from making sure you give little ones the best food for their age, to helping them develop strong muscles and bones.
With Healthy Start you get free vouchers every week to spend on milk, plain fresh and frozen fruit and vegetables, and infant formula milk. You can also get free vitamins.
You could qualify for Healthy Start vouchers if you're on benefits and are at least 10 weeks pregnant or have kids under four. If you're under 18 and pregnant you automatically qualify even if you are not on any benefits. Find out if you qualify.
To sign up visit your local children's centre, or talk to your midwife, health visitor or GP.
For more information visit the healthy start NHS website.