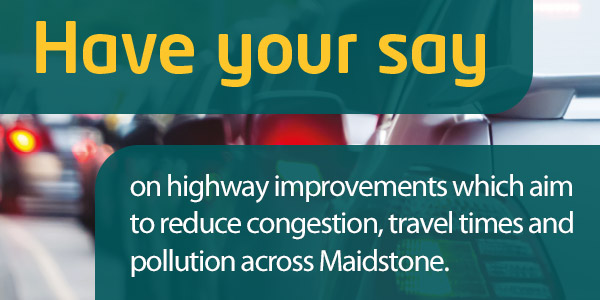 Maidstone is the place where several key routes, A20, A26, A229 and A249, meet and connect with 4 junctions of the M20. The Keep Maidstone Moving schemes aim to reduce congestion, travel times and pollution.
We have planned several schemes that take into account local development and other future growth. They have been designed to relieve congestion and provide the necessary capacity to keep Maidstone moving.
The schemes have been identified in the Local Transport Plan 2016 - 2030, Growth without Gridlock. One of the key aspirations of the plan is 'to deliver safe and effective transport, ensuring that all Kent's communities and businesses benefit, the environment is enhanced and economic growth is supported'.
What we plan on doing
The work will be split into 3 phases to help manage the disruption that will be caused by the work. Find out more about the details of each phase.
Phase 1
Phase 2 - A229 Loose Road corridor, includes:
Phase 3
Tell us your views
Whether you support or have concerns, we want to hear your views on the proposed schemes. The consultation will be open from 29 January to 11 March.
We recommend that you read our Keep Maidstone Moving consultation document (PDF, 4.9 MB) before responding to the consultation questionnaire.
The consultation will close on 11 March 2020.
Respond to our consultation questionnaire
If you can't complete the questionnaire online, use the Word version of the Keep Maidstone Moving consultation questionnaire (DOCX, 88.1 KB).
Consultation events
We are holding 3 consultation events where you can drop in and talk to our team, and there will also be a presentation.
Date: Saturday 8 February
Time: Drop in from 10am to 1pm, presentation at 11am
Location: The Tudor Park Marriott Hotel, Ashford Road, Bearsted ME14 4NQ
Date: Wednesday 12 February
Time: Drop in from 5:30pm to 8:30pm, presentation at 7pm
Location: The Village Hotel, Castle View, Forstal Road, Maidstone ME14 3AQ
Date: Monday 17 February
Time: Drop in from 1pm to 7pm, presentation at 2pm and 6pm
Location: Sessions House, County Hall, County Road, Maidstone ME14 1XQ
Cost of the schemes
The Maidstone integrated transport package (MITP) covers the funding for all the proposed schemes except the A274 Sutton Road and Willington Street scheme.
The MITP is expected to cost £13.9 million, £8.9 million of funding is from the government through the Local Growth Fund. The rest is through private sector Section 106 contributions from nearby housing developments, which they pay to help mitigate their impact on the roads.
The A274 Sutton Road scheme is expected to cost £2.5 million. Section 106 contributions of £1.8 million have been secured from surrounding developments. We are working with Maidstone Borough Council to identify suitable funding for the remaining costs.
Funded by
The government Growth Deal provides money to the South East Local Enterprise Partnership, funding projects which drive Kent's economic and business growth.