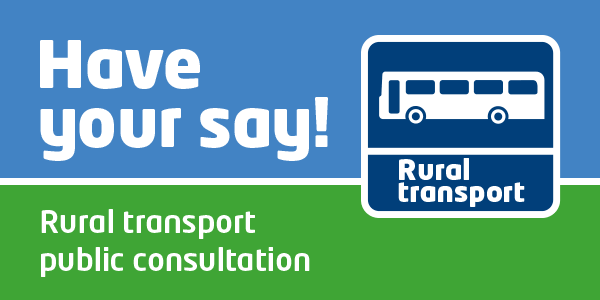 We want to find out if there is an innovative and sustainable way of providing transport to rural communities in Kent and we want to explore our ideas with you.
The consultation will run from 13 June to 8 August 2018.
Against a backdrop of ever decreasing funding for local councils KCC want to maintain, and where possible, improve accessibility for those without an alternative means of travel in rural areas. This will help tackle social isolation and provide the right transport solution for the right customer need, at the right price.
How to have your say
Your feedback is important and will help shape the future of rural transport in Kent.
Take part in the big conversation and have your say before 8 August 2018.
We want to hear about:
your use of public transport and the journeys you take
your priorities for a sustainable rural transport service
your thoughts on the 3 initial ideas we have developed
any additional information you think we need to consider when shaping the services for the future.
Read our consultation booklet to find out more about how we support public transport in Kent and our ideas for the future. Have your say via our online questionnaire.
Alternatively, download the Word version questionnaire (DOCX, 107.8 KB) and return for free via post to: FREEPOST BIG CONVERSATION.
Public meetings
We are holding 12 public meetings across Kent which you are welcome to attend. We will be presenting our initial ideas and providing opportunities for you to ask our team questions.
There is no need to book a place, just come along.
Event dates, times and locations are subject to change, please check this page for updates. You can also stay up to date via our Facebook and Twitter channels.
Update: Due to England's World Cup progress, the meeting at High Weald Academy, Cranbrook on 11 July has been rescheduled for 24 July.
June
| Date | Time | Location |
| --- | --- | --- |
| 19 June 2018 | 7 - 9pm | Dover Town Hall, The Maison Dieu, Biggin Street, Dover, CT16 1DL |
| 21 June 2018 | 7 - 9pm | Margate Football Club, Hartsdown Park, Hartsdown Road, Margate CT9 5QZ |
| 26 June 2018 | 7 - 9pm | Elite Venue Centre, Dunkirk Close, Gravesend, DA12 5ND |
July
| Date | Time | Location |
| --- | --- | --- |
| 4 July 2018 | 7 - 9pm | The Stag Community Arts Centre, London Road, Sevenoaks, TN13 1ZZ |
| 5 July 2018 | 7 - 9pm | Borough Green Village Hall, Borough Green, TN15 8DG |
| 10 July 2018 | 7 - 9pm | University of Kent, Darwin Conference Suite, Canterbury CT2 7NZ |
| 12 July 2018 | 7 - 9pm | Saint Mary's Bay Village Hall, Romney Marsh, TN29 0SW |
| 17 July 2018 | 7 - 9pm | Homewood School, Ashford Road, Tenterden, TN30 6LT |
| 18 July 2018 | 7 - 9pm | UK P Leisure, Avenue of Remembrance, Sittingbourne, ME10 4DE |
| 19 July 2018 | 7 - 9pm | Sessions House, Lecture Theatre, Maidstone, ME14 1XQ |
| 24 July 2018 | 7 - 9pm | The High Weald Academy, Cranbrook, TN17 2PJ |
| 25 July 2018 | 5 - 7pm | Princes' Park (Dartford Football Club), Darenth Road, Dartford, DA1 1RT |