A new town-wide 20mph zone in Tonbridge will be created as part of plans to increase walking and cycling. This scheme is one of various active travel initiatives to encourage more cycling and walking in the wake of the COVID-19 pandemic.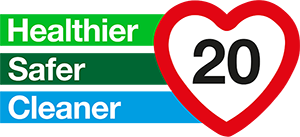 The changes around town will include 20mph road markings and signs as well as signed 20mph 'gateways' as you drive in. These gateways will have either a buff or red surface to highlight the start of the new speed limit.
There will be no other traffic calming measures such as speed bumps, in the first phase. However, throughout the trial period we will be monitoring the effectiveness of the scheme and there may be a need for further measures to ensure that the road design encourages motorists to keep to the 20mph limit.
Further measures could be introduced to improve pedestrian crossings and pavements as well as provide dedicated cycle lanes and paths for cyclists.
We are working with Tonbridge and Malling Borough Council on this scheme.
Scheme documents
There are studies that show 20mph schemes encourage active travel, increasing walking and cycling levels by about a fifth because they feel safer.
More walking and cycling can help:
improve health
save money
reduce traffic congestion
increase levels of physical activity
improve air quality.
Lower speeds give drivers and others more time to react.
By travelling at 20mph instead of 30mph, pedestrians and cyclists are five times more likely to survive a hit by a motorised vehicle. With a reduction of just 1mph, this can reduce casualties by an average of 6%.
Whether you are driving, walking or cycling around the town read safety information for all road users via the Kent Road Safety website.
Work in Tonbridge started on the 10 August 2020.
Whilst most of the scheme has now been implemented, there are a few areas where old signs or 30mph roundel road markings need to be removed or additional 20mph signs need installing. These works will take place during October.
In addition, some of the existing 20mph speed limits will have the 20mph road marking added such as Barden Road and Avebury Avenue.
Your views will be vital in helping us to:
measure the success of the trial
inform any future improvements
help us decide whether to make the scheme permanent
The Experimental Traffic Regulation Order, which will make the new speed limit legal is available to view and respond to from our consultation website until Wednesday 3 March 2021.